Which firm has claimed the top spot as the number one broker in the UK general insurance market? Insurance Times and Imas reveal this year's broker rankings
The definitive ranking of the UK's top general insurance brokers, compiled by Insurance Times and Imas, is here.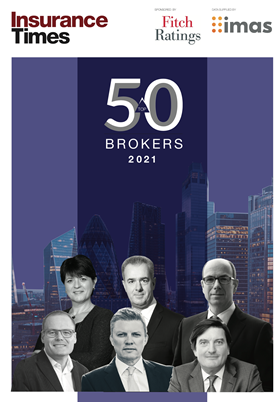 Despite Covid-19 only really starting to hit headlines in 2020, this year's Insurance Times/Imas Top 50 Brokers report shows that the ripple effects of the pandemic are still impacting brokers one year on, with business interruption claims continuing and motor insurance reviving after last year's lockdowns kept cars on driveways.
Equally impactful on the broking market has been the surge of M&A activity and consolidation, moulding the market into a new shape thanks to private equity investment - this has also affected the final rankings within this year's list.
Plus, 2020's takeover predictions have fallen flat in some cases, meaning that the expected reshuffle at the top of the list has not come into fruition.
To see a preview of the Insurance Times/Imas Top 50 Brokers 2021 report, click here.
Broker profiles outline each firms' management structure and strategy.