The broker saw losses increase to £112.7m over the first nine months of 2014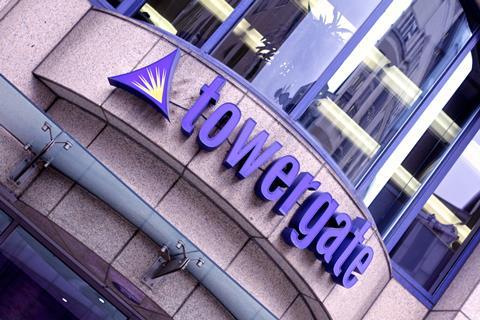 Towergate could be poised for takeover as it receives bids from parties interested in acquiring the broker group.
The broker has appointed Evercore and Rothschild as advisers to evaluate the potential bids.
Interim executive chairman Alastair Lyons said: "Towergate is a unique asset for someone to own in this industry. The approaches we have received underline this and are testament to the group's strength in its primary markets.
"While there can be no certainty that these approaches will result in a sale, it is our responsibility as a board to evaluate them thoroughly."
Losses worsen
The announcement comes as Towergate reports a loss of £112.7m for the first nine months of the year, a near five-fold increase on the £19.1m lost over the same period in 2013.
Lyons said the drop in profits was a result of the programme of changes that the broker has initiated, but admitted the process was taking longer than anticipated.
"The change programme underway at Towergate is designed to substantially reshape the business, simplifying, standardising and modernising the way we do things," he said. "While implementation of these changes is taking longer than expected, they will position the business for future organic growth and the delivery of significant efficiency gains.
"Given the extent of change taking place, particularly in Insurance Brokers, it is inevitable that there will be disruption to business as usual and a consequent downturn in trading as we make the transition to a new model."
Income fell by 1% over the period to £328.5m, with 2% and 12% drops in the Insurance Brokers and Paymentshield divisions respectively offsetting growth of 7% and 6% in the broker's Direct and Underwriting businesses.
But Lyons insisted the group remained in a strong position despite the challenges it faced in the market.
"While the market environment for our core clients remains challenging, Towergate continues to deliver very strong operating margins," he said. "It has an unrivalled position across SME general insurance broking and underwriting, the provision of household insurance to mortgage broker networks, and the servicing of third party brokers through the largest GI network in the country.
"We have a highly knowledgeable and experienced management team, strong client and insurer relationships, a streamlined proposition, distinctive specialisms and a clear strategic vision for the business."