Backchat finds he hadn't yet seen it all and applauds Sterling's MD for his cheeky comments on mis-selling scandals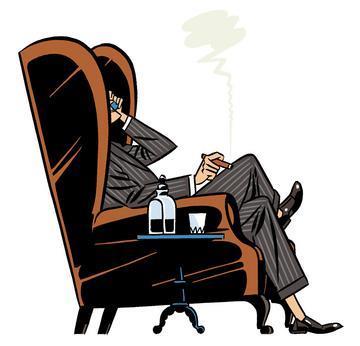 Lots of bottle
Of all the constituents of the industry, you'd think rating agencies would be the most risk averse. In the case of Moody's, this would seem not to be true when it comes to partying. Their press bash last week in the swimming pool room of the lavish Haymarket Hotel brought together that dangerous mixture of champagne and a large body of water without any protective rails or warning signs in sight. It is also good to see that Moody's EMEA insurance managing director Simon Harris has thrown caution to the wind by growing a cracking 'tache for Movember.
Lording it up
It's fascinating how the other half live. During law firm Dewey & LeBoeuf's annual insurance industry forum last week, former trade minister and CBI boss Lord Digby Jones regaled delegates with a tale of how he demanded a Jaguar as his ministerial car on the grounds that the less grand vehicle he had been offered was not made in Britain. His permanent secretary tried to put him off, warning: "They'll call you Two Jags." But the plucky Lord Jones replied: "They won't - I've already got three at home." Lord Jones got his car - despite making the plea for it at the time Northern Rock went under.
Scandal
I was among the guests gathered at the grand Café de Paris for Sterling Insurance's 60th anniversary last week. The atmosphere was expectant as Sterling's managing director John Blundell took to the stage to welcome the guests and make a speech. After thanking the guests and Sterling's partner brokers, the speech moved seamlessly onto the controversy surrounding the £50m transfer of Fernando Torres from Liverpool to Chelsea. "If the FSA wants to investigate a £50m mis-selling scandal …" John said, to much applause.
Sofa, no so good
I've seen many strange sights in the City, generally in Leadenhall Market on Friday afternoons. But watching Martin Oliver carry a sofa while the glamorous Jerry Hall looked on was a new one. A team from Barbon carried the sofa 10 miles from Plumstead to Lloyd's to raise money for the charity Emmaus, of which Hall is patron. The charity helps the homeless and 'hidden homeless' that sleep on sofas or in unsafe accommodation. Barbon's team still had the vigour to hoist
Hall aloft for a photo opportunity.
Bearing all
Our friends at AXA were doing their bit for underprivileged youngsters on Friday, converting their Ipswich office into the Suffolk call centre for BBC TV's Children In Need last Friday night. The centre took 2,500 calls, raking in £70,000 worth of donations. And AXA Commercial claims and underwriting director David Williams, who was overseeing operations,
took a turn in the Pudsey Bear suit.
Winging it
Markerstudy chief executive Kevin Spencer is a man who likes to travel in style, but that could be under threat. Once a keen chopper pilot, I'm told he hasn't done much flying in the last few years, which could make it difficult for him to renew his pilot's licence. Better get back in that cockpit Kevin.
On reflection
Our old friend Lord Myners was in knockabout mood the other day as he spoke in the House of Lords about Michel Barnier. At a meeting in London with the under-fire EU competition commissioner, he was puzzled by the Frenchman's close attention to the paintings hanging on the walls. Then the penny dropped, he told his fellow peers - Barnier was not scrutinising the art, but his own reflection.