Insurer reduced size of claim from £1.75m to £341,000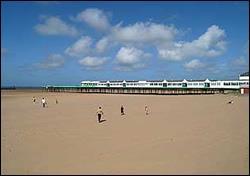 Zurich Municipal insured the £341,000 compensation payment by a council to a disabled man after a toilet seat collapsed underneath him.
However a council spokesman told Insurance Times that Zurich had succeeded in reducing the man's claim from an initial figure of £1.7m.
The bulk of the £341,000 payment, which was settled out of court four years ago, was accounted for by legal costs.
Zurich told Insurance Times that the disabled man's lawyers netted £200,000, more than three times the £60,000 pay out to the claimant himself.
The balance was accounted for by Zurich's legal costs and medical bills.
The claim was triggered by an accident in 2005 when the man, who had been visiting the seaside resort of Lytham St Annes (pictured), fell off the toilet after the seat collapsed beneath him.
The man, whose mobility was impaired from the waist down, was stuck on the toilet floor for half an hour.
He claimed compensation for distress caused and for injuries to his neck and shoulders resulting from the accident, which he said he had further impaired his mobility and ability to look after himself.
A Fylde spokesman said that the scale of the pay-out had not had an impact on Zurich's premiums.
The claim is one of 28 settlements made by the Tory-run council in 2013-14 that added up to a total of £773,290.
The figures were obtained by Justice Not Profit, a group which has been set up to campaign against the so called compensation culture.
Jonathan Isaby, chief executive of the Tax Payers' Alliance campaign, said: "This is further evidence of a compensation culture out of control that councils and ministers must do a better job of counteracting."