Initiative also calls for a ban on building in high risk flood areas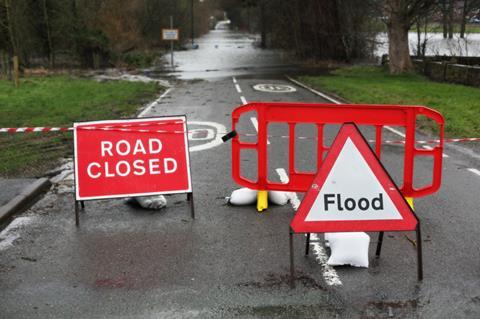 The ABI has launched a campaign aimed at raising £1bn of spending a year for flood mitigation schemes.
Flood Free Homes will also campaign for zero tolerance of new developments in areas of risk of flooding and cross party consensus on long-term solutions that manage all types of flood risk.
The initiative has been launched in partnership with Friends of the Earth, Know Your Flood Risk, National Flood Forum, and the Property Care Association's Flood Protection Group.
Chair of the Flood Protection Group Property Care Association and chief executive of the Know Your Flood Risk Campaign Mary Dhonau said: "Extreme weather events are becoming too common place to be ignored, flooding is the biggest natural threat faced by the UK.
"We urgently need a cross party consensus for managing floods, one that will address all forms of flood risk, one with an ambitious long term goal that will embrace innovation and investment to reduce flood risk."
ABI deputy director general Huw Evans said: "The need for this campaign to address the UK's rising flood threat has never been more important. No action is not an option. Last winter's floods highlighted the trauma and devastation flooding brings. How we manage our land and water has to become central to government decision making across the UK, whoever is in power.
"Without adequate long-term investment in flood defence protection that reflects the increasing threat, a zero tolerance towards building in flood risk areas and political agreement, too many communities will continue to live with the constant fear of flooding."
Join the debate in our new LinkedIn specialist discussion forums