Commercial premiums show shrinkage in commercial combined, packages and liability indices
In the latest Acturis index of commercial premiums, property owners is the surprising star. Based on data so far this year, it is the only index performing positively against 2009. While fleet has remained stable, commercial combined and packages have both turned negative by some four percentage points. Our newest addition, the combined liability index, has also fallen for the first time after six consecutive quarters of positive growth.
Acturis business analyst Will Smith said: "The third quarter of 2010 has not been great for the market, with average premiums for most classes below the previous quarter's figures and below those of the same quarter last year. This correlates with what we have been hearing from brokers and insurers – the market is as competitive as ever."
Commercial combined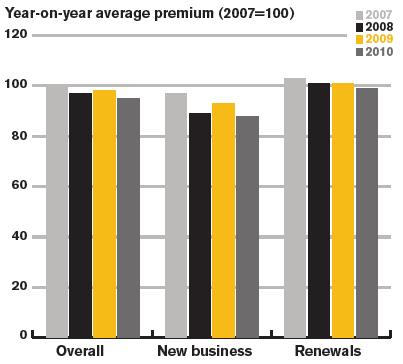 The Acturis commercial combined index has fallen by some 3 percentage points in 2010 on a year-on-year basis – a worrying trend.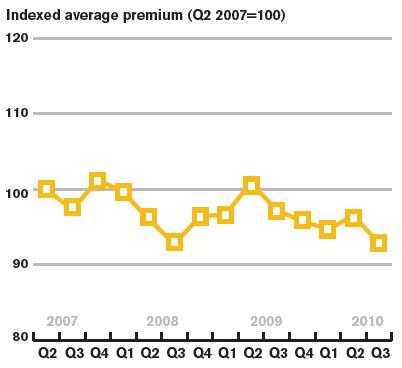 The quarterly index, above, also highlights this negative trend: average premium has fallen 3.6 percentage points from Q2 to Q3 of 2010.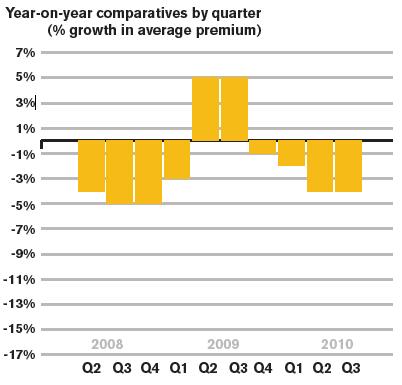 And after strong growth in Q2 and Q3 2009, there have been four consecutive quarters of negative growth relative to the same quarter a year earlier.
Motor fleet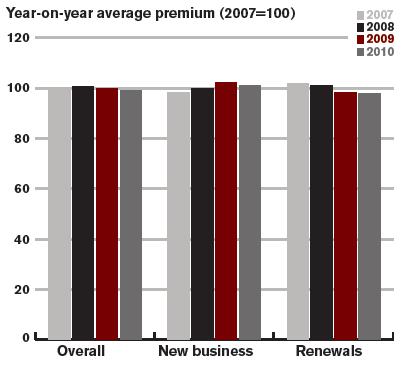 Motor fleet premiums continue to exhibit stable but negative behaviour (see above), with the Acturis fleet index moving slightly lower on a year-on-year basis.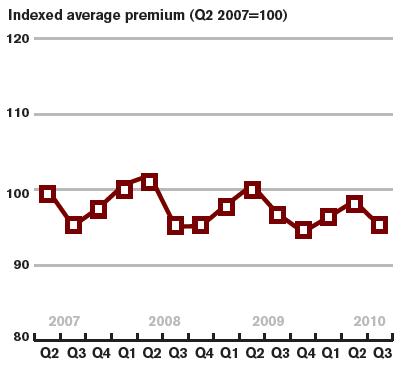 On a quarterly basis, we notice a small drop in average premium between Q2 and Q3 2010, from 98.5% to 95.2% of the Q2 2007 value.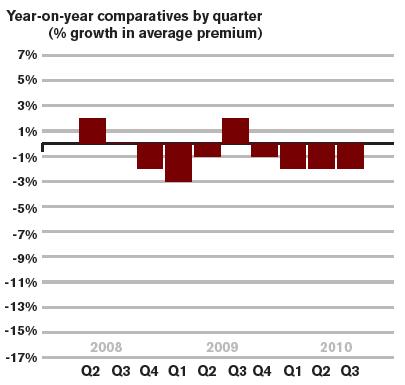 Year-on-year comparatives by quarter, above, continue to show steady – if small – decreases in premium for Q3 relative to the same quarter the previous year.
Property owners
Some better news on the property owners front: the indexed average has increased in 2010 by 1.7% (although renewals are still significantly lower).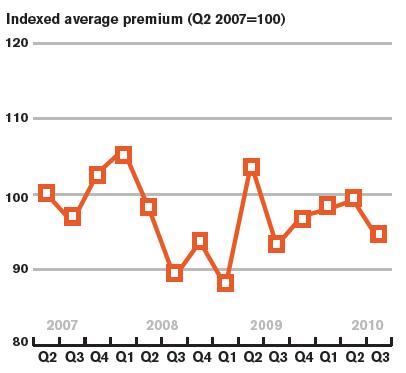 Although the property owners quarterly index fell in Q3 versus Q2 2010, this is typical for all Q3s since 2007 and the fall is less severe than previous Q3s (see above).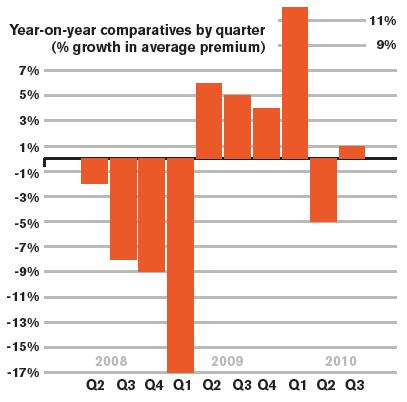 Also encouraging: five of the last six quarters showed positive year-on-year growth in average premiums relative to the same quarter a year ago.
Packages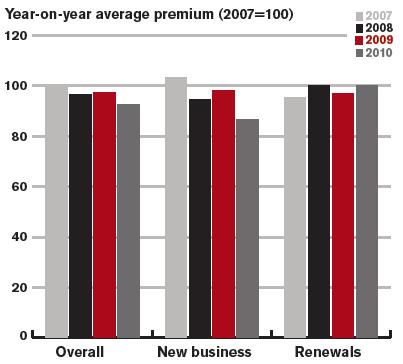 The performance of the packages index, above, underlines the competitiveness of the SME market, reducing by some 5 percentage points from 2009 to 2010.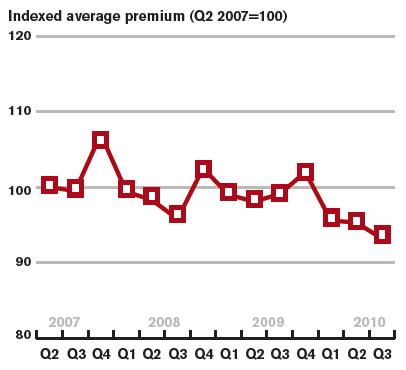 A 2% negative movement in the quarterly index underlines this. How much lower can the SME sector go before action is taken by insurers?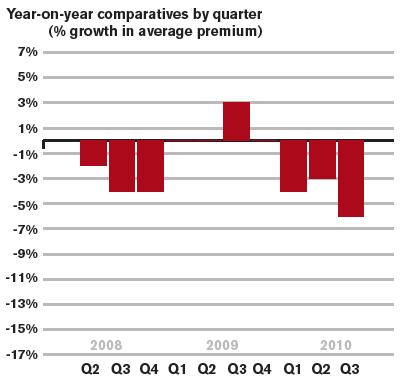 Year-on-year comparatives by quarter show a fall in premium for the third consecutive quarter – and the highest reduction in the history of the index.
Combined liability
This year, Acturis has introduced the comblined liability index for the first time. The combined liability product traded on the Acturis system accounts for some 9%-10% of an average broker's gross written premium.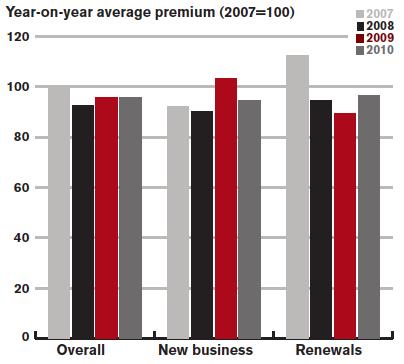 The year-on-year comparatives, above, show the overall premiums as relatively stable. New business premiums have been consistent with the exception of a marked peak in 2009, while renewals premiums seem to be recovering after a substantial fall from 2007 to 2008.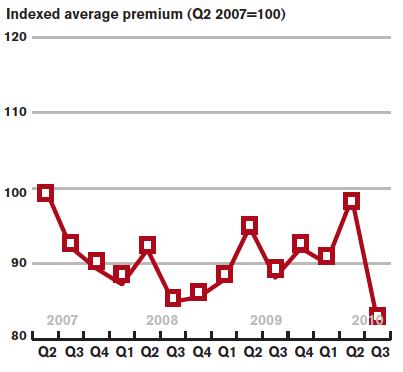 The quarterly indexed averages, above, show that combined liability premiums have fluctuated little until this quarter, with premiums between 100% and 82% of the 2997 value. However, the Q3 2010 index value is the lowest since 2007.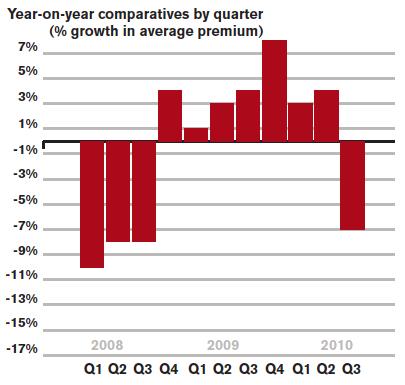 Finally, the year-on-year comparatives by quarter analysis, above, shows some worrying signs: after a number of positive quarters, we see a substantial decrease (7%) in Q3 2010 v Q3 2009 - the first negative movement for combined liability in 18 months. The coming months will determine if this result is a sign of a more prolonged decrease in average premium, or an anomaly in an otherwise positive period.
How the figures have been calculated
All renewal and new business trades on the Acturis system in a particular class for 2007, 2008, 2009 and 2010, with extreme values removed:
Combined £500-£65,000 premiums
Packages £50-£4,000 premiums
Property owners £125-£60,000 premiums
Fleet £500-£60,000 premiums
Property owners includes commercial, residential and mixed business.