Publishing online reviews of claims experiences could help build trust between customers and insurers. But despite anxiety in some quarters, delegates were told even bad reviews can have positive results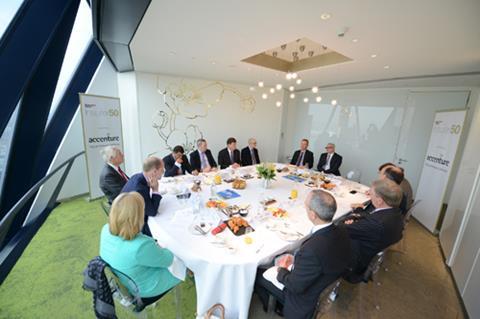 The first Insurer 50 meeting of 2015, held in the iconic Gherkin building at 30 St Mark Axe in London, was all about the customer.
Chief executives of some of the most prominent insurers in the UK gathered, with representatives of sponsor Accenture, to discuss how well the industry is meeting clients' needs and expectations.
It was clear that while the executives thought that the industry had made strides in improving customer service, its report card would still read "could do better".
The industry may congratulate itself on being customer-focused, but industry net promoter scores reveal that customers think otherwise, and trust insurers less than banks.
Claims handling is one area in particular where the industry feels it could do better. It is also where insurance proves its worth, so getting it right is vital.
Part of the problem is that from a customer perspective, insurers seem focused on legal and technical interpretations of their wordings to avoid paying claims, which results in a mismatch between expectations and outcomes.
And the complexity of the process means customers often do not know what to expect when they submit a claim.
This is one area where some believe the industry is ripe for disruption, as insurers could be usurped by customer-focused companies which explain the process clearly.
There is a feeling that companies outside the industry are showing insurers the way on dealing with customer service and interactions.
Online reviews
One move that could boost trust and bring customers and insurers closer together is publishing online reviews of claims service, including the bad ones, through services such as Feefo.com. Some companies have started to do this and others are considering it.
But some fear backlash from their claims teams, who are concerned about criticism of their service being available for all to see. Even claims teams with good service records are anxious about online reviews.
Companies are trying to work around this by explaining that even bad reviews can have positive outcomes so long as the insurer in question fixes the problem quickly. Customers are tolerant of mistakes as long as they are corrected promptly, and dealing with an issue well can even build trust further.
Understanding value
Claims reviews could also help the industry solve another of its big problems: customers' lack of understanding of the value of insurance, which is part of what drives their desire to pay as little as possible for cover. Customers only ever get to see the value of the product, or lack thereof, when they make a claim.
The FCA is trying to address this, including through its controversial suggestion of publishing claims ratios.
Insurers have argued that claims ratios are a poor measure of value, but have struggled to suggest an alternative, in part because there is no one metric to determine a policy's worth.
Much of the value is how the customer feels about a product and a service, which is why reviews may help.
The insurance industry has a long way to go to close the gap between customer expectations and outcomes. But customers would find it heartening to know that those at the top are striving to fix the industry's shortcomings.
In association with