UK insurtech is getting ready to scale the peaks with the help of incubators and accelerators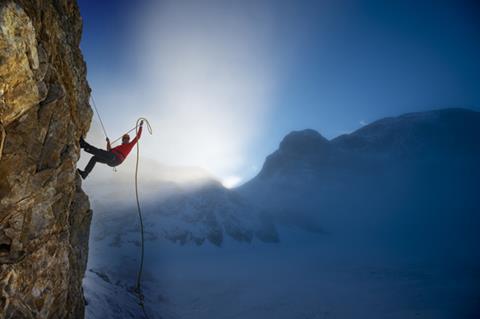 In June 2015, as the first fintech waves began to ripple, the World Economic Forum made a bold claim: The greatest impact of disruption would occur not in banking, but in insurance. The emerging landscape suggests they were bang on the money.
If insurtech spent the first half of the decade developing a definition, it has used the second to accumulate funds. Last year there were a record 173 investment deals, totalling $1.69bn. Early stage financing accounted for two thirds of them, rising 47% in volume and 56% in value to $508m, according to research firm CB Insights.
This is just the tip of the iceberg. There are an estimated 1,200 insurtech startups in the world, and around 170 in the UK, according to accelerator Startupbootcamp (SBC). Add other businesses with an insurance application, the numbers double.
Many of these businesses are also new. As of February last year, over 50% of Insurtech startups were no more than five years old; around a third were founded in 2014 or later, according to Venturescanner.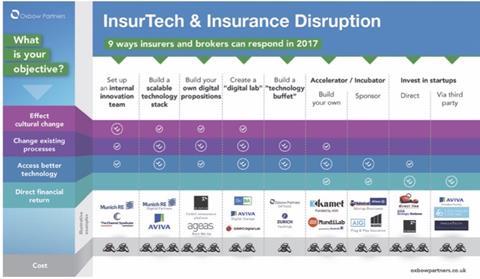 As cash and talent pours in from outside the sector – the last frontier in the disruption game – the UK insurance industry has begun, with characteristic reticence, to adapt.
"If there was a right way to do corporate innovation, there would be no disruption," says Serge Taborin, digital innovation director at Aviva, which has three distinct innovation arms, including its in-house lab, Digital Garage.
Insurers including AXA, XL Catlin and Hiscox, and reinsurers including Munich Re have diversified with corporate innovation and investment divisions; others such as Admiral and Direct Line have invested in core technologies.
Recently backers including Direct Line and Chinese fund Fosun International invested £13m in Sheffield-based telematics provider The Floow.
"We have taken multiple bets. Diversification of risk is always a good thing. It's not a huge amount of money for a €100bn corporation," says Parul Kaul-Green, head of UK strategy, M&A and innovation at AXA, adding that embedding of data scientists and artificial intelligence (AI) experts can combat the industry's inherent conservatism. "If it ain't broke don't fix it is a leading mentality. This is a good way of hedging internal heuristic bias. The two sets cancel each other out."
For those with a slightly shallower pockets, the insurtech ecosystem offers ample options. This includes incubators (where ideas are germinated) and accelerators (where existing companies are refined, prepared and connected to industry and investors). Such vehicles mitigate operational or regulatory impediments to product development. Internal accelerators, meanwhile, allow bigger brands to magnetize talent and ideas that would otherwise be lost or blocked in the traditional corporate chain, although commentators remain sceptical on their ability to develop truly innovative products.
Let's be friends
Entrenched views of either side of the insurtech equation persist. "If you have an idea and go to an insurer, 90% of the time they tell you it can't be done," a senior source at an incubator says. A recent PwC report, meanwhile, noted that 83% of insurance chief executives considered insurtech a threat to growth – up from 69% in 2015.
"They can't do anything until we say so," says one observer at a major carrier. But the likes of Lemonade, with underwriting capabilities, and scores of partnerships between incumbents and startups (with tech research firm Gartner predicting 80% of insurers would acquire or partner with an insurtech by 2018) suggest this is hardly the point.
"One of our secret sauces has been the ability to access proprietary data to assess risk," Aviva's Taborin says. "As we move into a world where the availability of data sources continue to increase, and technology like AI allow us to make sense of it, the advantage we hold will continue to be eroded.
"The threat of genuniely meaningful startups coming into this space and reinventing how insurance is done is very real."
A disconnect remains between the perception and immediacy of disruption, and insurers' appetite to either mitigate or exploit innovation. PwC said less than a year ago that only 14% of insurers had made a direct investment in an incubator or venture programme.
The bottom line
The same study found that half of executives feared 20% of their business would be lost to stand-alone fintech players.
"Insurtech will impact both top and bottom line," says Sam Evans, founder of Eos Venture Partners, the UK's first dedicated insurtech fund, and one of a handful worldwide. "On a conservative basis you can protect 20% and make another 20%. That's a 40% swing."
Given that transformational change tends to create unpredictable value, those figures could be higher. Eos' emergence alone suggests the insurtech market is maturing, and expectations of a typical 3 to 5 year exit more realistic despite the systemic obstacles that have limited investment in the past. The recent €1m purchase of Irish travel insurance startup Blink, without a battle-tested product, shows that inherent value is sufficient for some companies to part with their cash.
The profitability swing theory cuts both ways. "We want to take our price out of the value we create," says Laurence Rau, founder of Emerge Analytics, a machine learning platform based at SBC Insurtech that claims it can cut operating costs by up to 80%.
Incumbent support – whether financial, technical or something else – remains crucial, and why additional insurtech hubs will emerge in London, according to SBC Insurtech managing director, Sabine Vander-Linden.
"Fintech is ten years old; the insurtech bandwagon started last year. I think we'll get more accelerators, but they'll be trying to address very specific problems."
A report from consultancy Oxbow partners said 75% of insurtechs considered expertise as their key need from insurers; 58% said piloting; 42% underwriting expertise and capacity. Tellingly, 100% said speed.
Velocity may not be the industry's strongest suit, but regardless of metric, model or media hype, on the horizon the UK insurtech wave has started to form.
Key Insurtech Trends
Insurtech is currently evolutive, not disruptive. The 'tipping point' is unpredictable, and variable depending on the technology and market. Distribution is the short-term play; AI and blockchain the long. Over a quarter of insurance chiefs believe technology will completely reshape competition in the industry by 2021, says PwC.
Insurtech is characterised by emerging breadth and will be influenced by adjacent sectors. Investment from incumbents will continue to rise across all areas of the value chain.
Talent is a double-edged sword, according to Aviva's Taborin. "We can leverage learnings from other sectors, but we're also competing with them." Senior figures are leaving big players to remerge with smaller ventures. After an initial wave of founders outside industry, leaders increasingly have incumbent experience.
London will grow as an Insurtech centre, but competition, including from Asia, is growing.
Insurtech UK vs. The World
The UK accounted for just 5% of global insurtech raises last year vs. the US with 59%. Since 2009, the UK has accounted for $33m spread across 79 deals, vs. c.$4bn in the US, according to Sarah Street, EVP, strategy and innovation at XL Catlin. Experts including Manjit Rana, chief executive of consultancy, Ingenin suggest seed funding ratios are higher in the UK, accounting for as much as 10% of the total number of deals.
Eos' Evans says "The US leads on investing, the UK leads on innovation." Other commentators play down comparisons with the US due to its market size and unique investment appetite, driven by Silicon Valley and its technology dominace.
Brexit could have an impact on Insurtech momentum, especially as over half Insurtech Entrepreneurs in London are not British, according to Oxbow Partners.
Project Risk Forge, an initiative to create an InsurTech ecosystem in London, has called for additional government incentives including tax breaks for incumbents who invest in technology, and a commitment to creating hubs in the city to lower startup costs.
Domain expertise is perceived as a crucial strategic advantage, but will not be decisively leveraged until the community is more mature. "A lot of the names we're mentioning are not doing anything particularly sophisticated from a pure insurance point of view," says Paolo Cuomo, founder of Insurtech London and Insurance Partner at BCG. "It's more customer engagement and user interaction experts working with the right people in insurance."