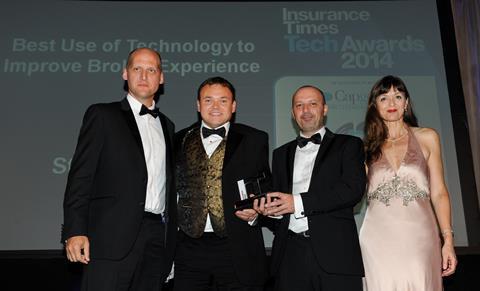 What does winning an award mean to the successful entrant? How important is it to staff and customers?
Here, two past winners reflect on the impact on their businesses of winning an award at the Insurance Times Tech & Innovation Awards.
Click here today to give your team the recognition they deserve for their innovative work in insurance technology.
Best Use of Technology 2014: Staveley Head
Flintshire-based broker Staveley Head won the award for Best Use of Technology in the stunning art-deco surrounds of the Bloomsbury Ballroom in central London (pictured above). The prize was for Staveley Head's wholesale trading platform, eQuinox.
Executive director Paul Cartwright says: "Since winning the award, the kudos of the badge alone has reinforced confidence in our ability to write profitable business and has helped significantly in securing additional capacity. The award has cemented our position in the industry as technological innovators.
"The trophy takes pride of place," says Cartwright, "in the boardroom – next to our 2015 trophy for the same award."
Cartwright says there were no pre-dinner nerves, because the firm had also been shortlisted in two other insurance awards ceremonies the same year. They knew, then, that they were in with a good chance of winning something and were relaxed – even though it was the first year the firm had entered any awards.
"Our attendance at the two prior award ceremonies included corporate guests, but, on this occasion, we were accompanied by spouses/partners," says Cartwright.
"It was particularly pleasing that they shared in the success and witnessed the recognition for the hard work put into the project.
"Of course, we were astounded that our entry and subsequent presentation had impressed the eclectic mix of respected judges. Nervous beforehand? Not at all, but more than nervous when we discovered we had five minutes to prepare for a TV interview, especially given the fact that copious volumes of alcohol had been imbibed during the course of the evening."
What was also nerve-wracking was the rigorous nature of the judging. The shortlisted firms have to make a seven minute presentation to a panel.
"We were put into a holding room prior to the presentation, we were in the company of the marketing teams from Allianz, AXA and LV, and this only added to the trepidation of presenting our offering," he says. "With no prior experience with which to benchmark, we were equally unsure how our presentation had been received. When we were announced as the winner, I was ecstatic."
Technology Partnership of the Year 2014: Enterprise Rent-A-Car
"The trophy sits proudly at our European HQ in Egham. We know it's a very important award and something that matters enormously to our customers. It's recognition for all the hard work we put in."
So says Enterprise UK insurance division head Stuart Sandell.
Enterprise won the award for ARMS Automotive, its online platform that allows bodyshops to provide real-time vehicle repair information to insurers, who can see at a glance exactly how long each replacement vehicle will be needed.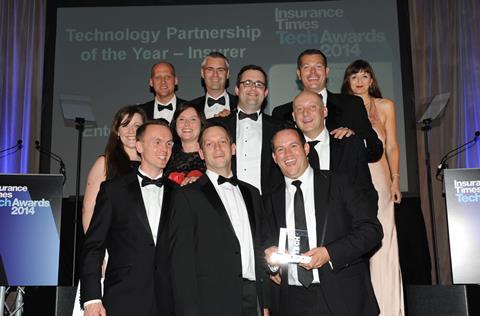 "It massively reduces the number of calls between bodyshops and insurers and was developed specifically to meet our customers' needs," Sandell says.
"We wanted to invest in a product that benefited the industry as a whole, because a more efficient motor claims process helps everyone in the long run. It has helped us deliver savings to and build closer links between all the stakeholders involved."
How did Sandell and his team feel on the night of the awards ceremony?
"We were excited, as the partnership category is always hotly contended.," he says.
"We believed we had a strong entry, but so did many other people. In fact we felt slightly out of place as a rental car company surrounded by businesses that sell IT for a living. We weren't nervous, just proud to be there with such a great team."
Winning the award was a real boost for Enterprise, Sandell says.
"ARMS is a system developed in the US that we adapted for the UK because we could see its enormous potential for the market here. Winning the award proves we are more than just a rental car business and that we add value far beyond the obvious," he says.
"This win was about Enterprise building a system that not only worked well functionally for customers, but delivered tangible cost savings against their rental spend and brought significant operational cost savings to other parts of the claim and repair supply chain," according to Sandell.
"It was particularly pleasing when you consider that we won a technology award ahead of companies that actually develop technology solutions for a living. And with so many stakeholders in the motor claims process, including insurers, repairers and claims companies, bringing them closer together creates a better service for drivers as well."