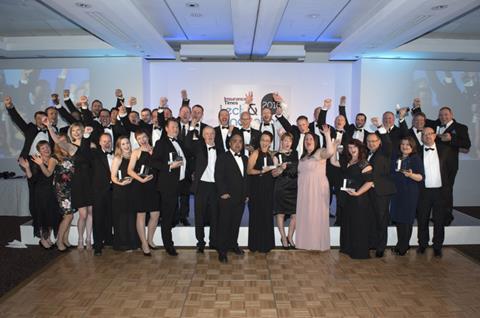 The Insurance Times Tech & Innovation Awards were presented last night at a glittering black tie gala dinner in Kensington.
The best and the brightest of technical achievement came together to see the winners receive their prestigious awards.
ERS chief operating officer Tim Yorke scooped up one of the most prestigious awards of the night as he took home the Technology Champion of the Year trophy.
AXA PPP Healthcare won big as it grabbed both the Insurance App of the Year Award and the Best Use of Social Media Award for its TRYit campaign.
AXA Insurance also impressed the judges and beat off a number of finalists to land two awards.
The evening also included five new categories that praised excellence in data analytics, e-trading, start-ups, apps and the Internet of Things.
Full list of award winners:
Data Analytics Excellence Award– New for 2016
Winner: DWF
Highly commended:Aviva
E-trading Initiative of the Year – New for 2016
Winner: SSP
Highly commended: Allianz (Complete Cargo - Marine)
Insurance Start-up of the Year– New for 2016
Winner: Visicover
Insurance App of the Year – New for 2016
Winner: AXA PPP Healthcare
Highly commended:Halo Insurance Services Limited
Internet of Things Breakthrough Award – New for 2016
Winner: HomeServe Labs
Technology Innovation of the Year – Insurer
Winner: AXA Insurance (IHP)
Technology Innovation of the Year – Broker
Winner: ADVO Group
Best Use of Social Media
Winner: AXA PPP healthcare (TRYit Campaign)
Highly commended: Passle
Technology Partnership of the Year
Winner: Bought by Many
Technology Partnership of the Year – Claims
Winner: Validus-IVC
Best Use of Technology to Improve Client Experience
Winner: CFC Underwriting
Best Use of Technology to Improve Claims Experience
Winner: AXA Insurance
Best Use of Technology to Improve Customer Experience
Winner: Zurich Insurance
Technology Champion of the Year
Winner: Tim Yorke