Last year's finalist Carina Garner talks about life after winning the award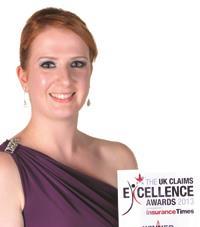 The countdown has officially begun to the Insurance Times Claims Excellence Awards 2014, with entries now open to the UK general insurance industry.
Insurers, brokers and third-party providers can enter 12 different award categories, with the winners announced at a special ceremony on 8 May at Senate House in London.
The 2014 Awards include several new and refined categories to reflect the changes in this dynamic industry sector.
New this year is a Legal Partner of the Year category, which will recognise outstanding legal teams that have helped insurers and brokers with their claims service and strategy.
Key dates
Entries open……………………..20 January
Entries close……………………..28 February
Finalists announced…………..10 March
Judging day…………………….. 25 March
Claims Excellence Awards….8 May
To view the category criteria or enter an award visit: www.insurancetimes.co.uk/claimsawards
Hamilton Leigh claims executive Carina Garner talks about her experience as an award winner last year (Outstanding Broker Individual of the Year – Commercial Lines ) and the challenges of working in the claims field.
How has winning an Insurance Times Claims Excellence Award boosted your career?
Winning this award has been wonderful. We, as a company, use the award logo on all of our literature and as such, my achievement is being widely recognised by our clients, insurers and solicitors. More importantly, potential clients will also know that if they move their business to Hamilton Leigh they will be in competent hands. I have also been rewarded by my employer in recognition of all my hard work.
What did it mean to you to win?
In short, quite a lot, as I was up against some tough competition. Getting through to the final stage was remarkable, but to hear my name being announced as the winner in front of hundreds of people was truly amazing. The claims world is a difficult industry and to be formally recognised for the work I do was beyond words.
What have been some of your/Hamilton Leigh's highlights over the past 12 months?
The type of clients we have means we have a high volume of claims that has resulted in us recruiting two full-time assistants, enabling me to focus on the larger and more technical claims. Hamilton Leigh is well known in the motor trade sector and we have designed motor-trade specific risk management workshops for main dealer groups that have proved a major success. Additionally, Hamilton Leigh has now launched our own specialist surgery scheme called 'Surgery Protect', which is a bespoke, flexible policy designed to mitigate the risks of running busy GPs surgeries, as well as dental and veterinary practices.
And the next 12 months – what are you focusing on in claims?
Modernising the claims world: we want the overall claim experience to be quicker and easier and as painless for our clients as possible. We carry out detailed risk presentations to our clients that make them more aware of the overall impact insurance has on their business. We also use these presentations to educate our clients on the correct claims procedure, especially with the introduction of the Ministry of Justice process.
We have several claims-related projects that are currently in the pipeline. Unfortunately, I cannot give too much away and can only advise people to watch this space!
What advice would you give to this year's entrants?
The biggest thing for me was not knowing what to expect. Having now gone through the experience, my only advice is to just be yourself and be proud of what you do.
What are some of the biggest challenges facing the claims community?
The two biggest issues our clients face at the moment are the effects of the 'compensation culture' prevalent in the UK. We all know about 'crash for cash' incidents, but we also have a significant increase in 'flash for cash' and 'phantom passenger' claims. Managing clients' expectations in these instances can sometimes be a challenge, which is why our new risk management workshop has made a significant difference.
Claims Excellence Awards 2014 – Categories
Insurer Fraud Prevention Initiative of the Year
Insurer Claims Initiative of the Year – Personal Lines
Insurer Claims Initiative of the Year – Commercial Lines
Outstanding Insurer Claims Team of the Year
Outstanding Insurer Claims Individual of the Year
Outstanding Broker Claims Team of the Year
Outstanding Broker Claims Individual of the Year
Claims Technology Initiative of the Year – Business Partner
Outstanding Claims Management Team of the Year – Business Partner
Legal Partner of the Year [NEW]
Industry Claims Training Initiative of the Year
Customer Care Initiative of the Year