At least two reinsurers have stopped offering non-capitalised PPO cover, broker says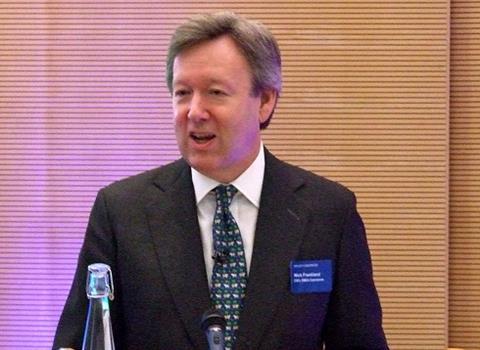 Large UK insurers are reducing the amount of risk they retain when buying motor reinsurance after increasing retentions in previous years, according to reinsurance broker Guy Carpenter.
The decision to retain less motor risk is being triggered by losses from periodic payment orders (PPOs), which compensate severely injured claimants throughout their life rather than paying a lump sum at the point of claim.
In a briefing about the 1 January 2015 reinsurance renewals this morning, Guy Carpenter also revealed that at least two reinsurers had stopped offering non-capitalised reinsurance cover for exposure to PPOs to UK insurers.
Falling retentions
Guy Carpenter EMEA chief executive Nick Frankland (pictured) said the reducing retention levels was the reversal of a trend seen in recent years, where growing confidence and size has prompted insurers to retain more motor risk.
Before the1 January renewals large UK motor insurers were content to buy reinsurance cover that kicked in after £5m or even £10m of losses.
The loss level that triggers the reinsurance coverage is known as the attachment point.
But Frankland said: "We are now seeing people dropping down and quoting to £2.5m and £1m attachment points."
Insurers' dwindling desire to retain motor risk has been prompted by losses from PPOs, according to Frankland.
He said: "As loss activity has worsened, as some of the larger PPO losses begin to take a toll on large insurance entities operating in the motor space, a number of them have brought down retentions."
Reinsurer exits
Frankland also said at least two reinsurers had stopped offering non-capitalised cover for PPOs at the end of 2014.
Because PPOs compensate the claimant over their lifetime, it is difficult for insurers and their reinsurers to estimate the ultimate claims bill because of uncertainty about the life expectancy of the claimant and future medical costs.
In recent years some reinsurers have sought to protect themselves from this uncertainty by offering capitalised cover. This effectively forces insurers to accept a one-off claims payment from the outset of the claim rather than payments over the life of the claim. This means the insurer bears the risk of life expectancy or future medical costs being higher than first estimated.
There are still reinsurers who offer non-capitalised cover, but this number dwindled at the 1 January 2015 renewals.
Despite this, Frankland said that insurers seeking non-capitalised cover were still able to get what they needed.
He said: "The traditional market still writing on a non-capitalised basis showed greater appetite than ever before and took larger lines. For the most part clients gave larger orders for non-capitalised coverage than they had in the previous year."
He added that this increased buying of non-capitalised cover was a reversal of the trend seen over the past two years.
He said: "I think some of the core reinsurers would love to turn [The UK] into a capitalised market but they are struggling, and they are struggling against an increased desire by those not offering it to take on their lines."
What is a PPO?
PPOs are used for large claims involving serious injuries. Instead of compensation being paid out in a lump-sum, the claimant receives an amount each year for the rest of their lives to help fund long-term care and other requirements resulting from the injury. This takes the financial risk away from the injured party and places it in the hands of the insurer.
Join the debate at our Insurance Times Motor Forum on LinkedIn