Simply Business hackathon aims to determine scale of disruption to industry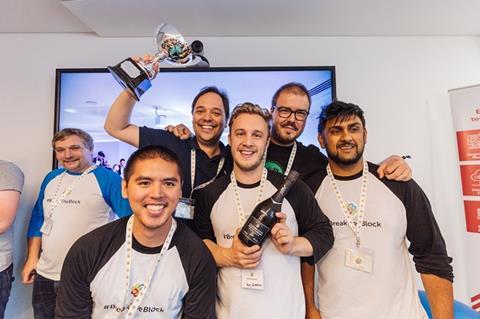 A blockchain-powered automated claims system developed by programming team Coders Without Insurance (pictured) was the winning entry at this year's Simply Business hackathon, held over the weekend.
Insurance broker Simply Business, now owned by US insurance giant Travelers, held the hackathon to help gauge how disruptive the fintech sector could be to the insurance industry.
For the winning entry, the Coders Without Insurance team used Ethereum, a blockchain platform, to develop a weather insurance platform for organisers of major outdoor events such as festivals, with automated claims payouts based on weather application programming interfaces (APIs) and Internet of Things (IoT) tools.
Under the idea, festival attendees could hold smart contracts, which they named 'sunshine contracts', to prevent them from losing out if the event is spoiled by inclement weather.
The team received £5,000 for their winning idea.
Ten teams competed in the hackathon to develop blockchain-based platforms from scratch using Ethereum.
The teams were joined by guest teams from two of the event's main sponsors, Accenture and Travelers and comprised developers and insurance professionals, some of whom had experience using blockchain and some of whom had not.
The runners up were:
ICOsurance, whose team used blockchain to insure initial coin offering (ICO) investors against cyber-security attacks
Re X, which used blockchain to improve efficiency in the reinsurance market
My Claim Dossier, which created distributed ledger architecture that can retain any customer's full claims history
Coders Without Insurance leader Christoph Burgdofer said: "It has been a thoroughly enjoyable weekend. We are at the edge of something revolutionary which will potentially turn the insurance industry, finance industry and other industries on their heads.
"We are excited to be among the people who have the opportunity to shape and design that future with our knowledge and experience."