Profits higher as broking group announces global reorganisation
JLT reported higher profits for 2017, boosted by organic growth across the business, and announce a reorganisation of the group into three global divisions.
Underlying pretax profit rose 11% to £191.5m, while group revenues rose 10% to £1.4bn, including organic revenue growth of 5%, against an organic growth rate of 2% in 2016.
Reported pretax profit rose 35% to £181.6m.
Trading profit in global Risk & Insurance grew 19% from 2016, while US Specialty is on track to achieve profit in 2019.
Group chief executive Dominic Burke pictured) said: "2017 was an important year for the JLT Group. The decisions we took during the year and the strategic developments we have initiated will, I believe, mark the start of a new chapter in the growth of JLT."
| JLT Risk & Insurance | 2017 | 2016 |
| --- | --- | --- |
| Europe revenue | £399.3m | £393.8m |
| Europe trading profit | £90.6m | £79.9m |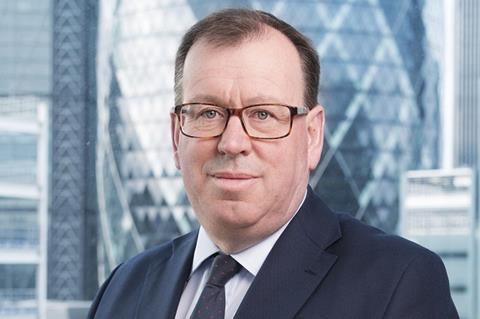 Effective 1 April, the group will be aligned into three divisions: Reinsurance, Specialty, and Employee Benefits. Annualised savings of £40m are projected by 2020 for a one-off cost of £45m spread across 2018 and 2019.
US Specialty build-out will focus on continuing organic growth, complemented by targeted acquisitions.
JLT Europe delivered revenues of £399.3m in 2017. After adjusting for the disposal of Thistle, which produced £20.0m of revenue and a loss of £3.6m, at the end of 2016, this represented revenue growth of 7%, of which 4% was organic.
Trading profit increased by 9% to £90.6m, and the trading margin increased 100 bps to 23% on an adjusted basis.
Strong client retention and new business drove good performances from most divisions, particularly Financial Lines, Northern Europe and Credit & Political Risks. This achievement was delivered despite challenging market conditions, particularly in the Energy and Marine sectors.
The group made investments in 2017 to strengthen JLT's representation in continental Europe, including the acquisition of Belgibo, the Belgian specialty broker, in August 2017.
"These investments support the group's Brexit planning, enabling the group to manage the consequences of different Brexit scenarios," the company said.
"In light of these investments, and other preparatory work, the group does not anticipate that Brexit will materially impact JLT's ability to serve clients and access markets in the European Union."