Andrea Leadsom reaffirms government's commitment to growing UK insurance industry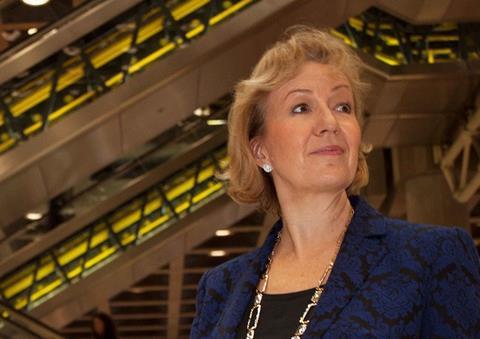 What is preventing growth in the UK insurance market? City Minister Andrea Leadsom wants to know.
She has urged insurers to provide details of anything that might be a barrier to the UK insurance market.
Speaking at an Insurance Institute of London Lecture at Lloyd's this afternoon, Leadsom reaffirmed the government's commitment to helping the UK insurance industry grow.
Leadsom noted that large global insurers and brokers were transacting a dwindling proportion of business in London. She said: "We need to understand as government why this happens and work out what we can do to ensure London is the preferred trading domicile."
She added that the government is trying to understand how the UK can be a more attractive place to transact business and what the current barriers are.
Leadsom said: "This is where each of you can help the government, by making your views known in detail so they can be examined and dealt with and where possible, adopted. I would encourage you all to do this through the London market Group as a really good conduit.
"In turn both HM Treasury and Michael Wade, who is our Crown Representative for Insurance, are in close touch with the London Market Group to try and bring these issues into urgent consideration in time for the Budget Statement in March."
Chancellor George Osborne is due to deliver his budget on 18 March, ahead of the general election on 7 May.
Growth commitment
Leadsom was also keen to impress on insurers that the government continues to be committed to helping the UK insurance industry grow.
The government announced the Insurance Growth Action Plan (IGAP) in December 2013, which aimed to boost the UK insurance industry both at home and abroad.
Leadsom said: "My message today is this: if you want to expand, we will help you to do so. Although the formal implementation of IGAP has been completed, our total commitment to the insurance industry remains. You just have to tell us what it is you need."
Leadsom also described the UK insurance industry as a "vital activity to the whole of the British economy" and argued that it does not always get the attention it deserves.
She said: "Insurance doesn't often get the right focus on its own activities unique from the rest of financial services."
She added that part of her remit was to promote the insurance industry "not just as part of the general financial services story, but uniquely as its own story with its own enormous wealth of history and talent."
Join the debate in our new LinkedIn specialist discussion forums