Group sentenced for staging crash following IFED investigation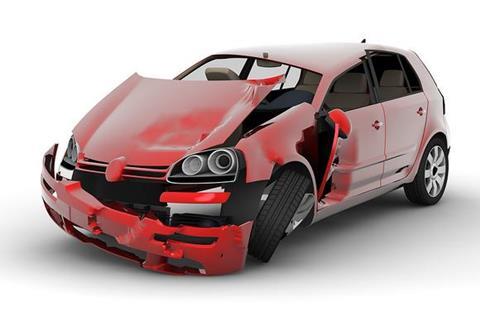 A five-strong 'crash for cash' gang has been sentenced today at the Old Bailey for trying to defraud insurer RSA of more than £30,000 by staging an accident.
The group was sentenced to a total of 37 months' imprisonment (suspended for two years), ordered to pay £10,800 in compensation and costs and ordered to carry out over 700 hours of unpaid work (see below for individual sentences).
The fraud was uncovered after RSA referred the case to the City of London Police's Insurance Fraud Enforcement Department (IFED).
Detectives found messages on a phone belonging to one of the suspects that detailed how he was struggling to pay the finance on his car and had arranged to stage the crash to get an insurance payout.
Collision
On 8 July 2013, Maqsood Ahmed contacted RSA to report that he had crashed his Citroen C4 into a parked Mercedes C63 AMG after losing control of his car.
Mohammed Munir, the Mercedes's owner, also got in touch with RSA the same day to report the damage to his car.
Both vehicles were recovered by the same company, Road Accident Help. When RSA came to collect the vehicles, the insurer was charged excessively high fees for the storage of the vehicles.
Two passengers in Ahmed's car at the time of the collision, Khalid and Kashif Mahmood, also submitted personal injury claims totalling more than £8,000 through Road Accident Help.
When RSA's engineers examined the two cars, they noted that the damage to the vehicles was not consistent with the story given. Also, the general condition of the Citroen (aside from the collision damage) was so bad that it was, in their opinion, not driveable. The case was referred to IFED to investigate.
No recovery
Naveed Mohammed, a partner in Road Accident Help, was interviewed in May 2015. Although he initially claimed that Ahmed and Munir called him for the vehicles to be recovered, phone records showed that no calls were made or received at the times claimed.
All five were eventually charged with conspiracy to commit fraud by false representation, with Munir also charged with money laundering in relation to the benefit he received from the hire car from RSA.
Full list of sentences
Mohammed Munir of Bowyer Road, Birmingham – 10 months' imprisonment (suspended for two years), 200 hours unpaid work, £1,000 costs and £1,250 compensation. Munir was also sentenced to four months' imprisonment (concurrent and suspended) in relation to the money laundering offence
Maqsood Ahmed of Seven Acres Road, Halesowen – 10 months' imprisonment (suspended), 200 hours unpaid work, £1,000 costs and £1,250 compensation
Khalid Mahmood of Lea Hall Road, Birmingham – nine months' imprisonment (suspended), 160 hours unpaid work, £2,000 costs and £1,000 compensation
Kashif Mahmood of Lea Hall Road, Birmingham – four months' imprisonment (suspended), 80 hours unpaid work, £1,000 costs and £650 compensation
Naveed Mohammed of Bromfield Road, Birmingham – four months' imprisonment (suspended), 80 hours unpaid work, £1,000 costs and £650 compensation