Anticipated increase to the fees claimant solicitors can recover could increase claims costs by as much as 20%
A decision on what fees claimant solicitors can recover from insurers has been delayed.
The Civil Justice Council's (CJC's) Costs Committee was due to publish recommendations for guideline hourly rates (GHRs) today, but this has been postponed until 16 April.
One defendant solicitor told Insurance Times that anticipated increases to the GHRs could increase insurers' claims costs by up to 20%.
GHRs have been frozen since 2010 (see chart, below) and claimant solicitors have campaigned for an increase.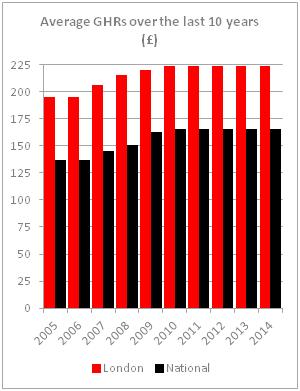 The CJC's Cost Committee launched a survey of solicitors in November 2013 and a further call for evidence in December.
In response to the call for evidence, the Association of Personal Injury Lawyers (APIL) called for an increase in the GHRs equal to the average increase of the retail price index (RPI) and the consumer price index (CPI) since 2009.
APIL said: "In our view the GHRs no longer represent a reasonable hourly rate for the work of fee-earners and should be increased in line with the average of these two indices to reflect the true cost of goods and services in 2013: 18.25%."
The initial recommendations are set to be published on 16 April, with final GHRs coming out later in 2014.