RSA involved in first extended tests of driverless bus pilot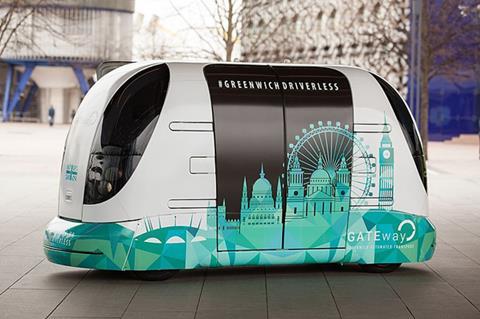 The first extended driverless shuttle bus pilot in the UK has begun in Greenwich, London.
The move, part of a wider intitiative to establish the nation as the global hub for autonomous car research and development, includes an £8m 'GATEway' project to investigate behaviour in driverless vehicles.
RSA, Shell and Telefonica are involved with the project as a consortium. They will be analysing how the impact of automation influences their business models. The latest stage is focused on risk, liability and insurance implications.
"Being involved in the project has given us some key insights into the future potential of fully autonomous vehicles as part of the vehicle landscape and how insurers need to consider and underwrite the risks," said Ian Kemp, underwriting product director, commercial motors at RSA.
RSA are also the insurer for the shuttle, known as 'Harry' and future vehicles, having completed a deal in 2014.
Robotics firm Oxbotica provide the sensor technology that allows the bus to navigate. They are no strangers to the insurance space having signed a strategic partnership, including data sharing, with XL Catlin in January last year. While the insurer are not involved with the GATEway project, Richard Jinks, project lead for XL Catlin said they are developing protocol on how to insure not only Oxbotica's products, but other similar robotics and automation products.
The shuttle design is based on 'pods' currently used at Heathrow Airport, which are positioned on tracks. They have carried over 1.5 million passengers since their installation six years ago.
The UK has a history of innovation in the auto sector and this type of technology has the potential to save lives as well as offer freedom to the elderly or those with mobility impairments
A driverless car was first tested in the UK in Milton Keynes in October last year. Other programmes are taking place in Coventry and Bristol in partnership with the government's innovation agency, Innovate UK.
The latest trial will explore passengers' attitudes towards driverless vehicles and barriers to acceptance. It will also monitor how pedestrians interact with vehicles, alongside adaptation of traffic lights, according to research laboratory TRL, GATEway's lead partner on the project.
Key Facts: The Autonomous Shuttle
Over the next three weeks, about 100 people will take part in the programme, the BBC reported. Oxbotica said it had received 5,000 applications.
The trial will take place along a two-mile riverside path close to London's O2 Arena. Pedestrians also use the path.
The computer-controlled vehicle, which travels up to 10mph and can see up to 100m ahead, has no steering wheel.
It uses onboard sensors, such as five cameras and three lasers, to locate itself in its map, perceive and track dynamic obstacles around it, and plan a safe obstacle-free trajectory to its goal. It does this without any reliance on GPS.
In an 8-hour cycle, a shuttle will collect a four terabytes of data; equivalent to 2,000 hours of film or 1.2 million photos.
GATEway, which stands for Greenwich Automated Transport Environment, described the project as providing "insight into what is expected to be the most profound change in mobility since the invention of the internal combustion engine."
They hope that passengers could begin using the system as early as 2019.
Last year, Singaporean taxi app nuTonomy laid claim to be the first company to offer driverless rides to consumers.