Flood cost set to erode UK combined operating home ratios by double digit figures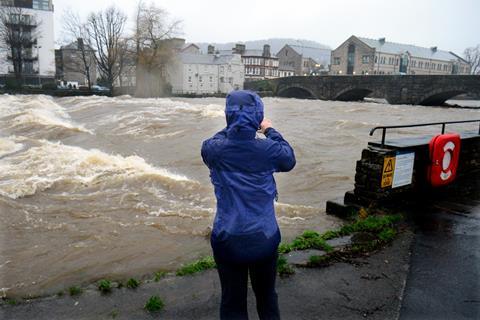 The cost to insurers for the flooding from Storm Desmond is likely to reach £520m, according to the ABI.
The ABI bill estimate comes amid more warnings of heavy rain on Monday that could bring flooding to parts of Wales by the evening.
National Resources Wales (NRW) issued nine flood warnings and 22 alerts on the weekend.
The final ABI bill estimate goes way beyond the initial estimation by Fitch which had the cost to insurers at between £150m and £350m, equivalent to three and seven points of the UK combined operating ratio (COR) for home insurance.
It means the final bill could add 10 points to the home insurance.
The ABI said there have been 23,700 claims for property damage, with just over 4,000 of these relating to businesses.
The ABI said 2,800 motor claims have been received and more than 4,500 initial visits have been made by loss adjusters.
ABI director of general insurance policy James Dalton said: "Being flooded is hugely traumatic and insurers have worked round the clock to get the repair process under way, provide immediate payments to people affected and find families somewhere warm and dry to stay.
"The floodwaters have mostly receded, but for affected families and businesses, the impact is going to be felt for months.
"Insurers and their expert teams will be there for the long haul to help communities rebuild and repair."
Meanwhile, NRW said two flood warnings cover the Lower Dee Valley from Llangollen to Wrexham and Tenby, Pembrokeshire.
The highest rainfall is likely on high ground in the Cambrian Mountains, Snowdonia and the Brecon Beacons.
A spokesman said drains may struggle to cope with the volume of water and roads could be closed, according to the BBC.
Swollen rivers could also cause disruption in the south Wales valleys.