The Committee on Climate Change says there is a strong case to drop the £180 levy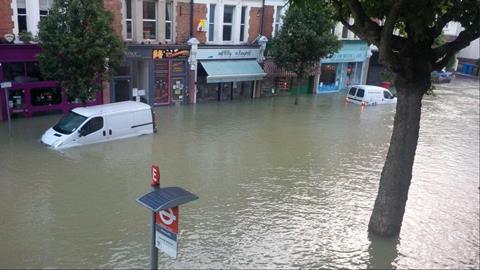 Flood Re is a waste of householders' money, according to an independent group of government advisers.
The Committee on Climate Change (CCC) says the costs of the scheme are three times greater than its benefits and is calling for the tax on everyone's premiums to be reduced.
Under the current Flood Re plan, insurance premiums for homes on flood plains are subsidised through a £180m tax on everyone else's home insurance.
But the CCC says this is "needlessly expensive" and that there is a strong case to drop the levy and improve value for money.
In a letter to Flood Re chief executive Brendan McCafferty, CCC adaptation sub-committee chairman, professor lord John Krebs said: "Flood Re is set to subsidise many hundreds of thousands of households more than the estimated number that might struggle to afford cover in the free market.
"Managing flood risk will always be the best way of securing affordable insurance in the long term."
The CCC also argues the scheme is too generous.
About half a million homes will have their insurance capped under the plan, but the committee says the insurance industry calculates that only 200,000 of these recipients would genuinely struggle to afford insurance without the support.
It says the cost of the scheme breaks normal government spending rules because it offers negative value for money.
Flood Re was set up in June 2013 by ministers in collaboration with the ABI. It was designed to be not-for-profit but the CCC says in fact insurers benefit from it because their own risk has been reduced.