Insurers need to take stronger action against fraud – that was the message at the inaugural Insurance Times Fraud Charter meeting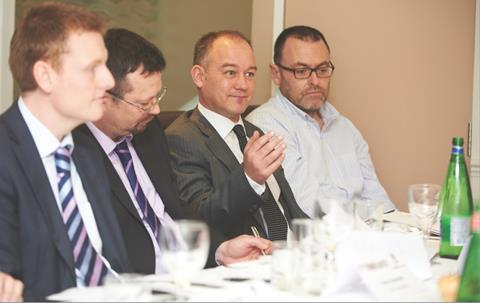 Many insurers are not putting their money where their mouth is over tackling insurance fraud, an Insurance Times roundtable heard last week.
Speaking at the inaugural meeting of the IT Fraud Charter advisory group, AXA UK group fraud risk manager Richard Davies said: "Some people are talking a good game but not delivering on those promises."
Frustration
Davies, who also sits on the Insurance Fraud Bureau (IFB)'s technical board, expressed frustration that industry-wide initiatives to tackle the problem were getting insufficient buy-in from many companies.
"When we go to firms and ask for resource, we are always told there are other priorities. That raises the question of whether we are serious about this or not. I would argue that we are not as serious as we say we are. We should be spreading the load a lot more equally."
Davies added that the IFB's success in engaging with chief executives on the fraud issue was often not translating into on-the-ground resources. He was backed up by Glen Marr, who recently stepped down as IFB director to become director of fraud at insurer First Central.
We are not as serious about fraud as we say we are. We should be spreading the load a
lot more equally"
Marr said: "I have been involved in some of these collaborative projects - some not so collaborative. They are driven by the same nucleus of people. We need to spread the load. The industry makes a lot of noise about fraud. The challenge is to get buy-in." He added that it would be an "interesting moment" when many of the key individuals involved in the industry's fraud-fighting efforts retired.
Call for unity
Davies also called for the industry to unite around the Insurance Fraud Register's definition of the problem when it is launched later this year. "People are going to try to take the definition of fraud apart and it's a completely pointless exercise because it will undermine [the initiative]."
ABI assistant director of markets and regulation Mark Allen raised concerns that the Ministry of Justice lacked recourses to police claims management companies, some of which have been linked to fraud rings. "It's vital that we lobby the government very robustly on the regulatory and legal landscape. We have to make the legal environment less conducive to fraud."
The Fraud Charter is a year-long initiative by Insurance Times, in partnership with AXA Personal Lines, to develop new thinking around efforts to tackle fraud and spread best practice throughout the industry. For more information, go to goo.gl/JKtJE.