Transport Select Committee chairwoman Louise Ellman tells Fraud Charter she has worries about progress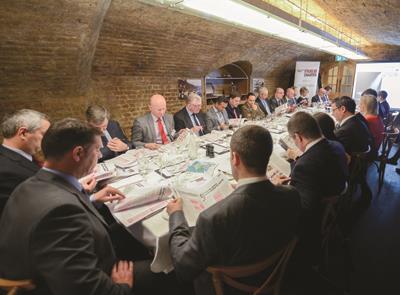 Transport Select Committee (TSC) chairwoman Louise Ellman told delegates at the final Insurance Times Fraud Charter gathering of the year that she still had concerns about how well the industry was doing in tackling fraud.
But she told those present, including the Ministry of Justice, insurer and broker fraud managers, loss adjusters and solicitors, that the industry had seen many changes in the four years since the TSC shifted its focus to the sector.
The Insurance Fraud Enforcement Department (IFED) became operational in 2012, referral fees in personal injury cases have been banned, while the claims portal has been set up to curb the costs of whiplash claims.
But Ellman said the TSC was still concerned about how alternative business structures were being used, the number of whiplash claims submitted without adequate medical reports, the lack of a robust cross-industry data sharing strategy, and the rising number of industrial deafness and psychological claims.
AXA global fraud control officer Richard Davies said the sector faced an uphill climb to achieving cross-industry data sharing until EU laws on data protection are ironed out.
Stepping up fraud fight
Fraud managers agreed, however, that in recent years insurers had stepped up their fight against fraudsters by pursuing more cases to court than managing claims away.
Davies said: "My impression is that the industry has taken what is the relatively easy ride to get people to walk away, principally by asking them difficult questions.
"But we have to put more effort into preventing fraud at the application stage. The key will not just be in managing it through the courts, but also with aids like the Insurance Fraud Register (IFR)."
Allianz fraud manager Mihir Pandya said that IFED's creation meant there was now an outlet for enforcement action.
But he cautioned that if IFED started approaching capacity again, as it did last November, it "would force insurers to start managing claims away again".
Inconsistencies
Despite improvements, Swinton risk and compliance manager John Hulme said insurers were still inconsistent in the way they handled application fraud and interpreted rules on reckless and deliberate non-disclosure.
"Some insurers take it too far and want to void anything, some keep the premium, while others won't," he said.
"There needs to be more consistency across the rules and application so that, as a broker, we know what we can do at the earliest possible stage."
In the Insurance Times Fraud Charter survey (see page 36), 21% of respondents said application fraud was the bigger problem for the industry - in last year's survey the figure was 5%.
Pandya said the increase indicated that the resources and capabilities insurers had to fight application fraud was growing.
But he cautioned against the industry taking a relaxed approach towards claims fraud. "Claims and application fraudsters have different profiles," he said.
Direct Line Group national manager claims inspectors Mark Chiappino added: "The application fraudster likes to stay under the radar and doesn't want to make a claim. There are cases when they are connected, but often not."
Displaced fraud
IFB director Ben Fletcher said there was a misconception that organised fraud was bigger than opportunistic fraud. The opposite is true, he said.
Fletcher said the industry needed different types of controls to manage a wide variety of fraud to prevent it being displaced elsewhere.
He said: "As an industry we promote the next big silver bullet, but we need to get to a point where we are managing different elements."
Hulme said harsher sentences for exaggerated claims would help deter opportunists. Davies said that insurers should also consider pursuing fraudsters with private prosecutions, adding: "The sentencing guidelines are well and truly against us.
"If we want greater sanctions we have to put our money where our mouth is."