Gallagher sees benefit in having KPMG compile a report that will be scrutinised by the FCA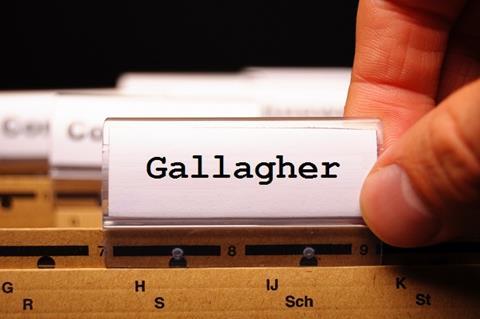 Gallagher said today it was confident over an FCA probe which has seen KPMG parachuted in to pull together an all-important report on the business.
Insurance Times revealed yesterday that KPMG will examine the rapidly-growing broker's risk and control framework.
The consultancy firm arrives to undertake a Skilled Person Review, under section 166 of the Financial Services and Markets Act 2000.
The eventual report will be scrutinised closely by the FCA and Gallagher International could be ordered to take action on the back of the findings.
The probe could result in a fine for Gallagher, even if the overall financial impact would be minor for the US broking giant.
However, Gallagher said the probe was 'expected' because it had grown so rapidly in a short space of time.
Gallagher said it could gain insight and expertise from KPMG.
A spokesman said: "Further to our discussions with the Financial Conduct Authority, we can confirm that KPMG has been appointed as the 'independent skilled person' to assess the company's risk and control framework and ensure that the framework we have in place provides the necessary levels of assurance for our boards and committees.
"As previously stated, this is very much an expected development for a rapidly growing organisation whose FCA classification has changed from C3 to C2 and we look forward to working with KPMG.
"Having undergone a significant increase in size and scale over a relatively short space of time, we welcome the opportunity to validate the work already carried out as part of our consolidation and integration programme, while gaining the benefit of insight and expertise from independent specialists."