With application fraud at an all-time high, the fraud rountable debate focused on the real cost of fraud and how insurers can take action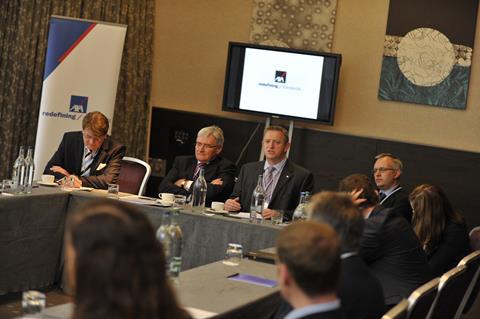 Insurers' whiplash injury claims payments far outstrip the cost to the NHS of treating such injuries, AXA commercial lines claims and underwriting director David Williams revealed last week.
Speaking at the Insurance Times Global Leaders Forum fraud roundtable, Williams said: "As an industry, we pay out £2bn a year on whiplash injuries, but the NHS only spends £8m treating people for whiplash. "That £8m reflects the magnitude of real injuries in the market."
He cited AXA figures that showed big variations around the country in the number of whiplash claims, which are generally acknowledged to be open to fraud because of the difficulty of diagnosing it.
In north-west England, 26% of accidents are likely to result in personal injury claims, whereas in Scotland it is only 7%. "There is a hell of a lot of claims farming going on in the North West," said Williams.
He also noted an increase in the number of claims per accident, which had gone from 1.2 to 1.6 claims per accident on average.
RSA counter fraud manager and board member of the Insurance Fraud Bureau John Beadle warned the roundtable that those who were not detecting big increases in fraud were likely to see their profits hit.
"The explosion of bodily injury fraud means that if you are not trebling or quadrupling the amount of fraud you are detecting in that arena, you will be left behind in the market," Beadle said. "It is at epidemic proportions.
Williams said there has been an increase in "exaggeration and desperation" on the part of claimants, which was fuelling potential fraud.
He added: "With the double-dip recession threat, this is not going to get any better."
Some might argue that we are not doing enough to educate people about the serious nature of claims fraud"

David Williams, AXA
Application fraud is at an all-time high, according to Williams, with many people seeing it as less serious than claims scamming. "Some might argue that we are not doing enough to educate people about the serious nature of claims fraud, but application fraud is certainly something people take lightly."
Beadle agreed that it was a growing problem. "Application fraud is something that has caught us by surprise. Moving on from conventional sales to online has created opportunities to manipulate quotes."
In an effort to deter fraudsters, the City of London's industry-funded insurance fraud police unit, with 34 police officers and support staff, will be operational from 1 January 2012.
By July of next year, the industry also plans to introduce an insurance fraud register, on which insurers will be able to register suspected fraudsters.
"We are serious about deterring people from committing insurance fraud. The biggest deterrents to insurance fraud are getting caught, being prosecuted and ending up in prison," Beadle said.
But he added that an "even bigger" potential deterrent to would-be fraudsters would be to blacklist them from access to insurance and other financial services in the future.
Collective efforts
For Williams, fraud needs to be tackled jointly across the financial services. He said: "We are seeing clear evidence of financial fraud elsewhere in the financial services arena leading to fraud against insurance firms.
"The better we can identify people committing fraud elsewhere, the more it will help insurers."
Biba chief executive Eric Galbraith said that fraud detection measures needed to involve brokers at a grassroots level. "We want brokers to have access to the DVLA details or the no-claims bonus database because, with the amount of people who misrepresent their details, something just has to be done."
Talking points …
● Is a greater awareness needed across the industry about the importance of broker involvement, in order to be able to identify fraud before policies are issued?
● How do all the advancements in technology help to fuel non-disclosures in applications? What can be done to fix this issue?
● How can the industry overcome the problem of people who attain multiple quotes from price comparison sites being identified as fraudsters?