New Hiscox hires have worked in a range of security areas, including counter-terrorism, bomb disposal, kidnap for ransom, piracy and threat extortion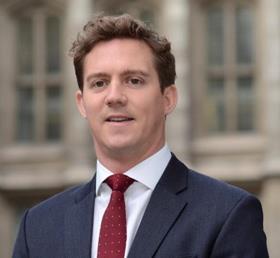 Hiscox has appointed security specialists Gareth Bateman (pictured right) and Lottie Catto (pictured left) to its security incident response team.
Iraq and Afghanistan veteran Bateman will take on the role of development director, while Catto joins as strategic development manger.
Bateman spent 10 years in the army, serving in bomb-disposal and counter-terrorism roles. In 2012, he began working in special risks and crisis management.
Since then, while working at Willis and then Deloitte, Bateman has tackled situations including kidnap for ransom, personnel evacuations and political violence.
In her seven-year career in the security sector so far, Catto has worked on piracy, kidnap and threat extortion cases on a global scale. In the past, she has presented to the Overseas Advisory Security Council (OSAC) in New York and the US Embassy in London, as well as the Joint War Committee at Lloyd's and audiences in Washington DC, Munich, Lagos and Beirut
Hiscox head of strategic growth and development, special risks Charlie Hanbury, who Bateman will report to, said: "I'm pleased to welcome Gareth and Lottie to Hiscox as we build on a successful first year and continue to drive the development and penetration of the SIR product. Their appointments underpin our investment in a product which meets a real need for businesses of all sizes looking to access world class incident response, crisis management, strategic advice and recovery services for a wide range of threats including kidnap, detention and extortion risks."
Hiscox's Special Risks division
Hiscox launched the unit a year ago, under its Special Risks division. It is aimed at private high net worth (HNW) clients, as well as a range of corporate clients.
Special Risks services include kidnap and ransom protection, access to security risk assessment services in partnership with Control Risks, news and insight on global risk data, and security incident response.
Cover is also offered for ultra HNW private clients at up to $150m per location for items such as fine art, classic cars and jewellery.
Hanbury explained: "Over the year we have seen an enthusiastic uptake from brokers, seeking more innovative ways to meet their clients' specific coverage needs. Our clients have ranged from the very small, with no international presence, to Fortune 500 global companies with operations all over the world.