From Big Data to motor and internal communications, the big issues were put forward for debate at the second Insurance Times Insurer 50 event of 2013, which was attended by some of the industry's key players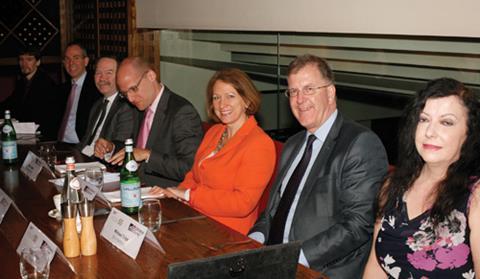 In contrast to the first Insurer 50 event, which took place in chilly January, the second gathering took place on a bright, warm April morning.
Chief executives from the UK's most prominent general insurers gathered with representatives from Insurance Times and sponsor Ordnance Survey at central London restaurant Piccolino.
The clement weather and hearty breakfast set the stage for an engaging and lively discussion that covered a range of subjects from personal motor insurance difficulties to Big Data.
Fittingly for a room full of chief executives, a large part of the session was given over to the challenge of leadership itself.
The UK insurance industry is facing unprecedented change. It has just ushered in new regulators, the Financial Conduct Authority and the Prudential Regulation Authority, which have instigated thematic reviews. Meanwhile, motor insurers are embroiled in the Competition Commission's investigation into sharp practices.
And while insurers have generally weathered the tough economic climate well, they are facing the dual pressure of poor investment returns and limited ability to raise prices where needed because of cash-strapped customers' inability to pay.
A core skills for a chief executive is to think strategically, planning for the long-term future of their company. But in an environment like today's, this can be difficult when you are constantly having to fight fires.
While the current situation is challenging and necessitates shorter-term, tactical thinking, there was also a sense from the amassed chief executives that tough conditions force them to think about solutions and innovate. Adversity and change should not necessarily be feared because they
can create new opportunities and products.
For those who run the UK operations of international firms, the tough market allows them to pass on lessons learnt to head office.
Insurer 50 members also pointed out that thinking strategically on its own was not enough; you have to communicate effectively to employees and be able to act on the plans you have made. They also said there is a danger in thinking too much; sometimes you have to get on with it to make the necessary difference. A chief executive who is weak in any three of these disciplines is likely to get a nasty surprise.
Another essential skill for a chief executive in tough times is having confidence that your plan is right and following it through despite any setbacks.
Driving change
Chief executives will need all their strategic skills to keep on top of the developments in motor. The legal reforms aimed at cutting frivolous bodily injury claims that came in with the Legal Aid, Sentencing and Punishment of Offenders Act in April have already started to soften prices - some argue even before they came into force. Prices are only likely to reduce further as the effects of the reforms in the act become clearer.
There are also worries that despite the referral fee ban and the Ministry of Justice's pledge to cut lawyers' fixed recoverable costs in road traffic accident cases to £500, there is still too much money in the system that could be used to fund the pursuit of frivolous claims. One area of concern is the payment for medical reports.
There was also some frustration that although several of the leading UK insurers are subsidiaries of European groups, the lessons learnt in tackling spurious motor bodily injury claims in other major European countries are not being heeded in the UK.
The conversation then switched to the benefits of Big Data in underwriting. Some attendees detected great changes in the market thanks to the use of public credit data.
The advent of Big Data also paves the way for both evolutionary and revolutionary changes to industry practices. An example of evolutionary change would be using data to screen for fraud, while a revolutionary change could be a smartphone application that allowed insurers to offer tailored, pay-as-you-go cover depending on where the policyholder is and what they are doing.
With appetites for scrambled eggs and debate satisfied, the chief executives went off - no doubt to tackle some of the issues they had discussed.
SOUNDBITES
"The Insurer 50 event is a great opportunity to discuss the matters of the day with peers across different sectors of the insurance industry in a informal session. All the participants are people at the top of their game who have an in-depth knowledge of insurance. While we don't all necessarily agree with each other all of the time, the common themes that emerge stimulate discussion and are great food for thought later."
Keith Morris, chief executive, Sabre
"The topics were relevant and the format encouraged challenging discussion between the members. I particularly enjoyed the Big Data topic as this is a nut far from being cracked. Insurance is an industry full of data - it's our staple diet - but usually highly tested and accurate data. The Big Data concept requires us to think differently about how to use data in a dynamic and much more unstructured way. I'd love to learn more about how to take advantage of all the Big Data that's out there."
Inga Beale, chief executive, Canopius
"The event was enjoyable and useful in that it provided a good opportunity for open and frank discussion on issues of broad interest within the industry. I would like more opportunities of this kind. For UK motor I believe we should look outside the UK experience, as there is much we can learn from how motor insurers across Europe, particularly in Germany, France and Italy, operate in their markets. On leadership, the ever-stricter regulatory environment, coupled with difficult economic conditions, require clear strategic thinking to successfully tackle the complex challenges that currently face the industry."
Nicolas Aubert, managing director, AIG UK