The first Insurance Times Broker 50 event of 2013 saw some of the industry's top directors discuss key issues affecting them, from the new regulatory body to the increasing use of technology and data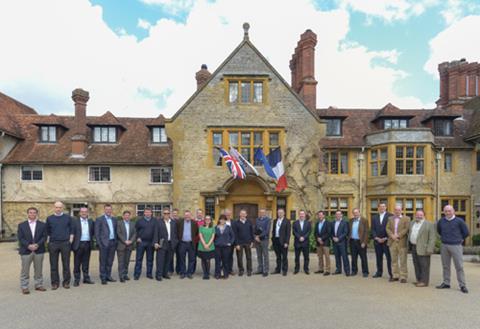 For the first Broker 50 event of 2013, senior executives from the UK's most prominent brokers gathered with Insurance Times representatives and sponsors, including ACE, RSA and Enterprise Rent-A-Car, at chef Raymond Blanc's Le Manoir Aux Quat'Saisons restaurant and hotel in Oxfordshire.
Not only did the Broker 50 members get to enjoy Le Manoir's relaxing surroundings, there was also clay pigeon shooting and a sumptuous nine-course tasting menu that took place later in the day.
Before getting their rewards, however, the assembled brokers had to tackle a series of the most important issues facing them, their clients and their insurer partners in a lively, engaging discussion.
A large portion of the day was spent discussing how brokers and insurers could work together better to meet clients' needs.
There was a sense that insurance is slipping down commercial and personal lines' customers' list of buying priorities. It can be viewed as a grudge purchase - a perception not helped by the welter of questions, the often over-complicated documentation, and coverage that does not always respond as desired or expected to losses.
Room for improvement
Despite the industry talk about using technology effectively to improve service, there was a feeling that insurers and brokers have yet to get to grips with putting the talk into practice.
One criticism was that the industry focuses too much on technology for acquiring business, for example, through electronic underwriting and price comparison sites, but not enough on using it to serve and manage the customer relationship afterwards.
Big Data is seen as an increasingly important underwriting tool, but some felt that here, too, the industry's efforts could be improved. The industry is good at collecting data, but less adept at putting it to use.
For example, it should be possible for companies to use data sources to answer application questions without needing to bother the policyholder with pages of questions.
One Broker 50 member likened the use of credit scores for underwriting to playground football, where all the players chase the ball. The temptation is for insurers to use the data to chase a small number of 'good' risks, potentially leaving swathes of policyholders un-served if their credit scores and other data do not fit the industry's ideals.
The industry is very good at collecting data, but less adept at putting it to use
There is also room for improvement in more basic forms of communication between insurers and brokers. Some noted that insurance policies may not respond as expected because some brokers cut corners when gathering information from policyholders. But insurers are also to blame here, others argued, because they will rarely turn down new business from a broker who has not been thorough at the application stage.
Regulation also came under fire from a client service perspective. Some brokers expressed confusion about the direction of the Financial Conduct Authority, which took over insurance broker regulation from the FSA on 1 April.
In the afternoon, delegates gathered for bit of fun rivalry with a clay pigeon shoot. Oval chief executive Peter Blanc, who brought his own shooting equipment, saw off strong competition from Giles Insurance Brokers' Sean Finnegan and Direct Group's Derek Coles to take first prize.
The delegates then returned to Raymond Blanc's Le Manoir for a sumptuous nine-course signature tasting menu. All in all, a good day's work for the cream of UK broking and the commercial partners: ACE, Enterprise, RSA and Xchanging.
Soundbites
"Attending the Broker 50 event is always a great investment of my time. The chance to have off-the-record and informal conversations with other chief executives from the industry is most valuable and has real business benefits for all. During the closed-door session, the big opportunity in my mind was the importance of having a co-ordinated industry broker response through Biba to engage effectively with the new regulator, the Financial Conduct Authority, which has been explicit in saying it wants meaningful engagement with financial firms. This could potentially involve more proactive political lobbying."
David Newman, chief executive, Carole Nash
"It is obvious that the new regulator will bring about changes. But is that a bad thing? If brokers and insurers act with integrity and transparency, for the benefit of the client, then surely there should be no cause for concern about the change. There is a need for the industry as a whole to be consistent in its approach and discussions, whether these discussions be with the government, the regulator, or the media."
Paul Moors, group chief executive, Bollington
"It is clear that regulation and the future direction of the FCA is at the forefront of brokers' minds, with a high level of uncertainty and a desire for greater clarity of the FCA's priorities. A consistent view from the group is that Biba needs to further strengthen its voice, and that more senior figures from the broking world should support and participate. We await with interest the outcome of Biba's strategic review, and would like to see Steve White at future Broker 50 events."
Stuart Rootham, managing director, RK Harrison Insurance Services
"I went into the discussion on compliance, and the roles and responsibilities of the FCA, with a degree of confusion as to what the overall goal of the new body was, apart from a tough line on consumer detriment. Following the discussions I believe we all had a clearer focus on this and, importantly, how through Biba we can drive further clarity into our obligations."
Julian Hilton, regional managing director, Jelf