Online retailer has already had £11.8m payment
Online retailer Ocado expects full compensation from insurers, after revealing today that a factory fire cost it £110m.
Ocado suffered a major fire in February that ripped through its distribution centre in Andover.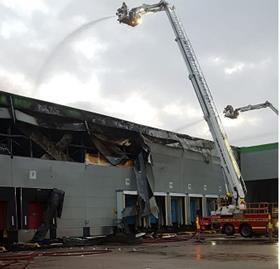 The factory fire in Andover left the hi-tech warehouse badly damaged
It revealed today a headline loss of £143m on sales revenue of £882m in the six months to 2 June, affected negatively by more than £100m of one-off costs relating to the fire that gutted the hi-tech robotic warehouse.
Property insurance specialist FM Global has been named as one of the main insurers for the online grocer.
Finance chief Duncan Tatton-Brown expects all the fire-related losses to be covered by insurance over time, reported as exceptional income.
An investigation by Hampshire Fire and Rescue Service and its insurers concluded the electrical fault caused a robot to catch fire.