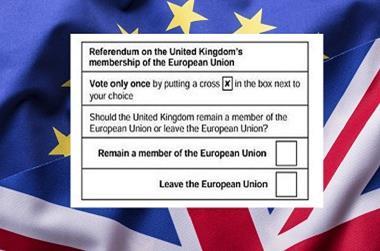 Insurers have moved to allay fears of disruption following UK voters' decision to leave the EU.
Aviva said it has conducted "extensive analysis" in the implication of leaving the EU and said the decision will have "no significant operational impact on the company".
It added: "Aviva's operations in the UK and its other subsidiaries in the EU are well capitalised and continue to trade as normal. Aviva continues to be supervised by the PRA/FCA as lead regulator and Aviva's European subsidiaries are incorporated and regulated locally and principally trade in their local market."
Allianz UK, a subsidiary of German insurance powerhouse Allianz, said it was "business as usual" despite the vote.
Chief executive Jon Dye said: "Allianz has a long term commitment to the UK market and to all of our commercial and personal lines customers.
"Our priority remains to offer the best levels of service to our customers and to support them through this period of uncertainty."
Lloyd's chairman John Nelson said he is confident Lloyd's "will stay at the centre of the global specialist insurance and reinsurance sector" and that he looks forward to "continuing our valuable relationship with our European partners".
He added: "For the next two years our business is unchanged. Lloyd's has a well prepared contingency plan in place and Lloyd's will be fully equipped to operate in the new environment."
A statement from Zurich said: "Even though the British people have chosen to leave the EU, the UK is a key market for our business globally. While some customers may be worried about what this means for their policies or investments, we remain committed to our customers, distributors, communities and employees in the UK."
But the Swiss insurer added there was uncertainty abou the longer term future. It said: "The process of the UK leaving the EU is likely to take years, so at the moment it's far too soon to say what all the effects will be across our business. We have established a team to follow this closely and will provide information to customers, distributors and employees as the process evolves."
AXA UK Group chief executive Paul Evans said: "It is far too early to say with any degree of certainty what impact the vote will have on our customers, our business and our employees in the UK.
"Following the outcome of the vote we will now monitor the coming withdrawal negotiations closely and will continue to support our customers and employees in the time ahead."