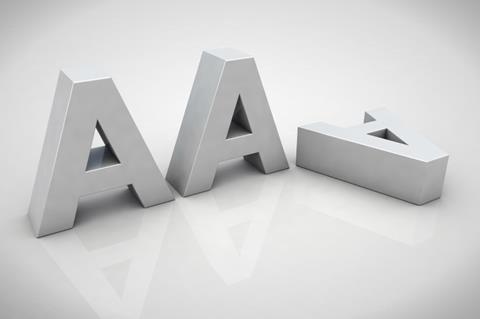 The UK's sovereign rating could be downgraded by more than one notch over today's decision to leave the EU, rating agency Standard & Poor's (S&P) has warned.
The rating agency gives the UK its highest rating of AAA, although it is on negative outlook, which means it is at risk of a downgrade.
A one-notch downgrade would take the rating to AA+, two notches to AA, three notches to AA- and so on.
S&P said it warned in a research update on 29 April that a vote to leave would deter investment in the economy, decrease official demand for sterling reserves and put the UK financial services sector at a disadvantage to other global financial centres.
The rating agency also said a leave vote could affect growth, external funding and the public balance sheet. It added that, depending on the circumstances it could downgrade the UK's rating by more than one notch if it believed that the UK's institutional strength and ability to formulate policy conducive to sustainable growth were negatively affected.
S&P said today that an exit would be a long, drawn-out process while the UK and EU negotiated their future dealings. But it added that certain ratings may be affected sooner, including the UK sovereign rating and any ratings linked to it.
Despite warning that a Brexit could put UK financial sector at a disadvantage, S&P said it is not likely to take rating actions on UK insurers.
The rating agency said: "While representing about one-third of the UK's very substantial financial services net export surplus, the insurance sector is far more reliant on trade with non-EU countries–especially the U.S. The sector is also a very limited recipient of inward investment."
It also said UK insurers operating in the EU could, with appropriate planning, continue their businesses largely uninterrupted.
But it added that the period of uncertainty following the decision "could weigh on insurers' investment returns and possibly on the rate of future economic growth".