Under a new US-style plea bargaining system, senior staff in UK firms could be sacrificed by companies keen to avoid prosecution for criminal acts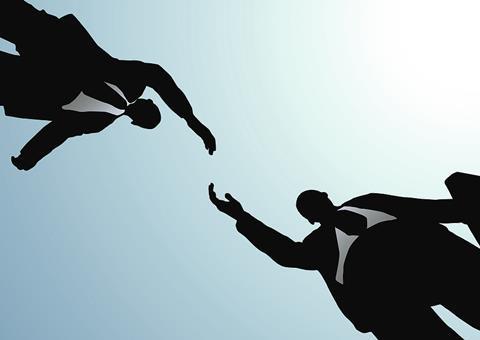 The directors' and officers' (D&O) insurance market is expecting a rise in requests for increased cover from senior company executives once US-style plea bargaining for corporate crime lands in the UK.
Deferred prosecution agreements (DPAs) are being introduced under the Crime, Communications and Courts Bill and should become law in the spring. The government's aim is to give prosecutors more flexibility - particularly when dealing with fraud - to achieve better outcomes for victims and ensure appropriate penalties are handed down.
The reforms are also designed to encourage companies to self-report crime. In return they will be granted immunity from prosecution as long as they agree to make internal reforms, pay a fine and publicly acknowledge any wrongdoing.
But what does all this mean for company executives?
Criminal cases
The system brought in by the UK Ministry of Justice (MoJ) borrows heavily from the USA where DPAs are common, but where, asa consequence, senior executives and directors have been sacrificed by corporations to protect the company. This can lead to criminal cases being brought against individual senior executives whether they are guilty of wrongdoing or not, and hefty legal expenses.
D&O policies indemnify senior executives for legal expenses and financial claims directed at the company and, by extension, themselves as the people that run the company.
The use of DPAs will encourage companies to distance themselves early from directors or staff under suspicion"

James Lynas, Winkworth Sherwood
But legal experts, including K&L Gates corporate crime team partner Elizabeth Robertson and Winkworth Sherwood partner and consultant James Lynas, warn the use of DPAs "will encourage companies to distance themselves early from directors or staff under suspicion", a polite way of saying companies will side against their own executives. In those circumstances, executives will inevitably turn to their D&O policy and their lawyer. But some might find they are not covered.
Lynas warns: "Directors and senior staff should not assume they will be protected by their company or its insurance policy and should check the terms, not only of the company's D&O insurance, but also of any legal expenses cover included as part of their domestic insurance policy. Such cover is normally capped at £50,000 costs, which could be reached easily in a complex fraud investigation."
The MoJ's proposals are expected to put the emphasis on companies carrying out internal investigations and interrogating staff, and then informing authorities to avoid stiffer penalties and lengthy trials.
Lack of confidentiality
But Robertson says that senior executives in those interrogations will not have the benefit of privilege - whereby what they say is confidential - only the company will.
"We've never had a culture in the UK where the business conducts its own legal investigations into criminal conduct," Robertson told Insurance Times's sister publication StrategicRISK. "This makes directors very vulnerable."
From a legal standpoint those interviews pose almost as much insurance risk as an interview under police caution.
Most UK D&O policies currently do not offer cover for internal interrogations like these because they are rare. Policies may have to be reviewed as senior executives 'lawyer up' at the start of internal investigations rather than waiting until criminal proceedings begin.
Elsewhere in Europe, D&O policies already cover internal interviews. For example, in Germany, shareholders can call for an internal investigation into perceived management failures.
But whether policies will be amended in the UK to provide cover for such circumstances is still in doubt. One industry insider told Insurance Times that providers probably wouldn't review policies because there was no money in doing so. They said the changes proposed by the MoJ were unlikely to push rates up, so providers would be extending cover for no extra premium.
"There's no appetite at the moment among providers where there is little likelihood of making any money," the insider adds.
Moving the trigger point
But Dual underwriting manager Jeremy Isaacs says its D&O policy already covers internal investigations from the point at which a company tells the authorities it intends to carry out the inquiry.
"I'm sure if a client wanted to have a trigger point regardless of whether their company informed relevant government agencies or not, we would do that and we wouldn't charge a greater premium for it," Isaacs says.
Dual will be looking at its D&O policy provisions over the next year, according to Isaacs who adds he "wouldn't be surprised" if the provider changed the language of its current policies to make sure that any type of internal investigation was covered. "It won't be long before everyone follows suit," he adds.
The extent to which the reforms may increase costs or premiums is unclear. All that is certain is that the next executive to besacrificed by a company to save its corporate image will lead to an avalanche of requests for cover from officers and directors fearful of suffering the same fate.
Indeed, senior executives will undoubtedly appreciate clearer language in D&O policies.
Q&A with Andrew Farr Manchester Underwriting Management
Q: What does D&O cover?
A: Cover under D&O policies has changed a lot in recent years. The new compliance officer nomination process means there are clear reporting requirements where there are material breaches. There is guidance on the Solicitors Regulation Authority reporting requirement, but compliance officers need to make sure they do not fall foul as they can be held personally accountable. The historical reliance on the definition of defence costs has been expanded in recent years. For example, we typically now see cover for crisis communication exposures for things like FSA raids and regulatory action expenses even where there may not be definitive wrongdoing.
The critical point is to check the wording, in particular the definitions of regulatory actions and who is insured"

Andrew Farr, Manchester Underwriting Management
Q: Does D&O cover internal investigations?
A: The policy is intended to cover the innocent insured, and internal investigations can be covered as the director or officer may be acting in the interest of their stakeholders. What the client will want to see is more affirmative language, rather than rely on defence costs definition alone.
Q: Can senior executives with D&O policies ensure they are covered?
A: In the past the coverage was implied but now clients want specific language. We saw this with the Bribery Act, for example where policy extensions have been added. The critical point for the compliance officer is to check the wording, in particular the definitions of regulatory actions, who is insured, and the overlap and synergy with the professional indemnity policy.
Talking points …
● Will deferred prosecution agreements push up D&O premiums?
● Is it more likely that brokers will offer extended coverage for internal investigations?
● Will DPAs lead to an increase in internal investigations or will UK corporate culture remain largely unaffected?