Former LV= GI boss makes his mark at insurance law firm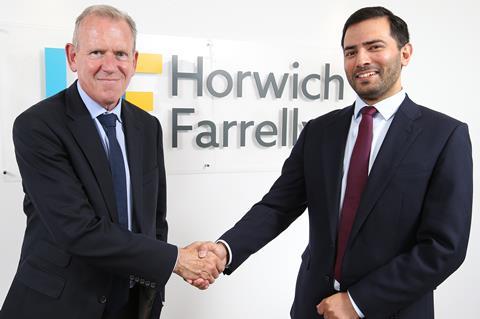 Former LV= general insurance managing director John O'Roarke (pictured left) has made his first hire at insurance law firm Horwich Farrelly, where he is now chairman.
He has appointed Thomas Reynard (pictured right) as chief operating officer. Reynard previously worked at insurance and legal outsourcing firm Premex Group, where he was head of finance at the firm's Argent Rehabilitation unit.
He has also held financial and operational roles at law firm Parabis and accounting firm PwC.
In his new role at Horwich Farrelly, Reynard will oversee the law firm's continuing investment in systems, processes and reporting.
Reynard said: "With such sustained growth, built on a fantastic results-driven reputation, it is crucial we ensure the firm is agile enough to respond to opportunities quickly and effectively, maintain a low cost base, and continue to deliver exceptional service to our clients.
"I look forward to tackling these, and other challenges, to ensure Horwich Farrelly continues to be a leading provider of legal and handling services to the UK general insurance sector."
O'Roarke added: "We were extremely impressed by Thomas' wide-ranging and highly relevant experience. He is clearly the right person to join our growing firm and take on this important role."
O'Roarke, who was instrumental in building LV='s general insurance business, became Horwich Farrelly's chairman in February this year.
He left LV= in May, handing the reins of the general insurance business to former Aviva personal lines head Steve Treloar.