Lockton International chief executive Julian James talks challenges, China and IPOs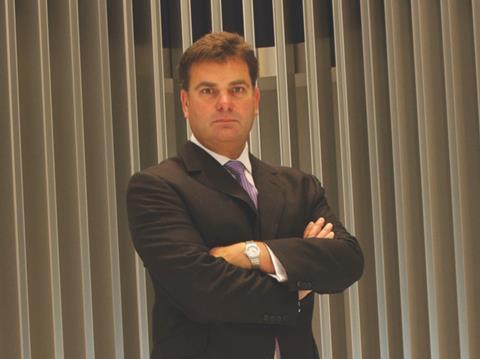 What sort of mood is Julian James in today? Meet him at an event and he can sometimes come across as a bit aloof. But today he's all charm and sparkle, chatty and laughing at jokes.
James has real presence: his 6ft rugby frame is snappily dressed in an expensive suit, and he carries an air of self-confidence as he walks and talks. He's also not afraid to step up onto the soap box and shoot from the hip on industry issues.
Exasperated by some of the sharp practises that have caught the FSA's attention, such as mis-selling of financial products, James says: "How can you build a business if you're gouging your customers? You can't, it's madness!"
James has some strong opinions, so it's surprising that he's been fairly quiet with Insurance Times. This is his first interview in a few years. So let's recap on James's background in insurance.
James built his reputation at Lloyd's as director of worldwide markets. Many thought he had earned the right to replace Nick Prettejohn as Lloyd's chief executive in 2007 but, instead, an outsider to insurance, Richard Ward, was awarded the top job. It hit James like a steam train.
"I was disappointed at the time not to get the role. No one likes coming second, or third, or fourth, or fifth," he says.
Ever the optimist, James says it was great to help rebuild Lloyd's following the asbestos claims, reinsurance contract failures and raft of disasters.
"To be there as part of the cabinet to what was going on, it was fascinating," he says. "I'm so lucky that I can look back and say that I had the experience of working with the people I did."
Silver lining
Not long after the disappointment of missing out on the Lloyd's top job, James received a call from Lockton International's current chairman Mike Hammond, asking if he wanted to be their chief executive.
Lockton had just bought South African broker Alexander Forbes to give the US broker a presence in the UK, Asia and Latin America.
James was given a clear remit for his mission: to expand Lockton's international footprint. But has he succeeded?
According to James, yes. He is not afraid to bang the drum of Lockton's success, backing his claims with an array of statistics. Perhaps the most telling of these is that Lockton International had revenues of £95m in 2006 and now it is £154m.
James insists it's all about growing the company, serving clients, and getting the best out of staff. He also insists that money is not the prime motivator. But what kind of share windfall will he take home if Lockton floats?
"Why would we want to float?" James fires back. "This is the problem with the industry. How can you go out and talk about the long-term interests of the client if you can't tell them who is going to own you and what type of business you're going to be in three years?"
How can you talk about the long-term interests of the client if you can't tell them who is going to own you in three years "

Julian James, Lockton International
Many brokers have a driving ambition to either float or sell up to make a windfall for their shareholders, but not Lockton.
It's a family-owned business and the largest private broker in the world, and it wants to remain independent. It is this point that distinguishes both Lockton and James.
You won't find directors making short-term decisions that could be negative for Lockton, James says.
"Do you remember when the world was about to end in 2008?" he says. "Everyone was going 'we've got to cut out costs, cut our training programme, fire our market people, and not have the journalist party because we can't afford it'.
"I thought the most stupid thing we could do was fire a bunch of people and cut our training budget. And actually, we doubled the money we were spending on associate development."
The right culture
James's interest in developing talent persuaded him to become CII president, a year-long stint he finished in July. In this role you have to be aware of standards in the industry and James doesn't like a lot of what he sees.
"Getting the culture right is the most important ingredient. All of that is underpinned by a strong moral and ethical way of doing business, and if you look at the FSA and its agenda, that is what it's saying to the financial services industry," he says.
So does Lockton accept the controversial contingent commissions (payments by insurers in return for volume of placed business)?
"It depends what you mean by contingent commissions," James says. "If you're earning a secret profit from your client and you're not disclosing it, how is that client going to continue to trust you?"
James doesn't exactly give his definition of contingent commissions, but we'll leave that one for another day.
As well as staff development and raising industry standards, James's other passion is China. He is keen to expand Lockton's presence from its two offices in Shanghai and Beijing. Some people believe the country is difficult to operate in and its potential for insurance is limited, but not James.
"How can you be a global broker and not understand how to do business in China?" he says.
As much as James is focused on international expansion, the UK still provides the rump of Lockton International's brokerage.
James says the firm will continue to concentrate on corporates outside the FTSE 100 interested in developing long-term partnerships.
This, afterall, is what James is all about: developing long-term relationships with staff, clients and management.
Lockton's three challenges
Expanding its footprint in China - the broker only has two offices there
Establishing its UK managing general agency Mapledown
Continue to compete in the UK mid-market as firms tighten their belts