Financial services business's parent Ageas says two sites are no longer viable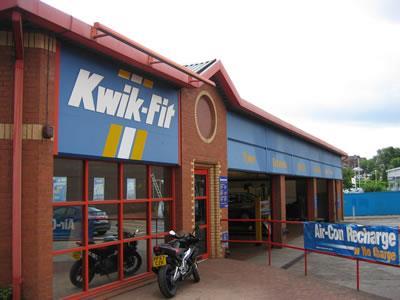 Kwik-Fit Financial Services (KFFS) is consulting staff on plans to consolidate its insurance business onto one site, which could result in the loss of up to 170 jobs.
KFFS operates two centres, one near Glasgow and a smaller operation in Great Barr, Birmingham. But a spokesman for Ageas, KFFS's parent company, said: "It's not commercially viable in the long term to have two separate sites."
The proposal is to close the Birmingham centre and start relocating to the Glasgow base after the 90-day consultation period, which would result in the loss of up to 170 jobs in Birmingham.
The spokesman said everyone at the Birmingham site would be affected, including the marketing and logistics teams.
Consultation period
During the consultation period, which started last week, a series of options will be presented to employees, including openings with Ageas in Stoke and Gloucester and redeployment with local employers.
Recruitment agencies will also be invited to the Great Barr office to host open days for employees, and all staff will be offered recruitment workshops covering key skills such as interview technique and CV writing.
Ageas acquired KFFS for £215m in 2010. KFFS managing director June Lynch said: "This consultation period will allow us to consider a proposal to consolidate our business onto one site. We realise this is a difficult and uncertain time for those affected and, should a regrettable loss of jobs become a reality, we will do our utmost to ensure our colleagues in Birmingham are able to find alternative employment."
Spate of job cuts
KFFS's announcement follows a spate of job cuts by other companies. Last month HomeServe unveiled plans to reduce the size of its core UK business with the loss of 250 jobs from its Walsall site. And earlier this month, Aviva announced that up to 10 jobs could go at its engineering division in Southend as part of a restructuring of its construction, power and engineering business.
Zurich also announced last month that it was planning to cut almost 400 jobs by the end of 2014 as part of the relaunch of its UK personal lines broker proposition.
In February, Chartis Insurance UK announced up to 130 job cuts in the face of tough market conditions.
We say …
● Kwik-Fit Financial Services faces a tough year after Ageas's retail broking operation, which includes RIAS and KFFS, reported a drop of 23% in pre-tax profit in the first quarter to £3.6m (Q1 2011: £4.7m).
● More insurers look set to follow a trend of consolidation over the next year, reducing head count and office numbers.