Prolegal Solicitors' 'Industrial Deafness Lawyer' page has received more than 3,300 likes since launch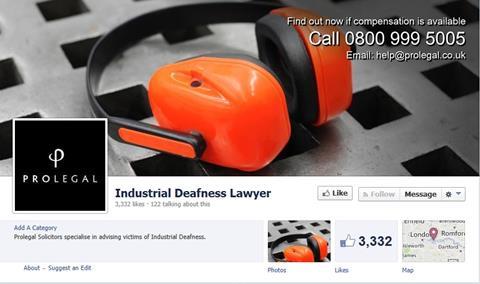 Claimant lawyers are using Facebook to advertise their "no win no fee" industrial deafness claims services.
Prolegal Solicitors, which specialises in advising victims of industrial deafness, set up their 'Industrial Deafness Lawyer' Facebook page in June.
To date, the page has received 3,360 likes and 26 comments from members of the public enquiring about the validity of their claims, with most enquiries coming from those who have worked in the armed forces and nightclub industry.
Insurers have anecdotally reported a rise in claims coming from industries outside of those traditionally associated with deafness claims such as factories.
Industrial deafness claims have been branded "the new whiplash" due to insurers seeing a sharp rise in claims from employees seeking compensation for hearing problems arising from noisy work environments.
Even with the introduction of the Legal Aid, Sentencing and Punishment of Offenders Act (Laspo) and its changes to fee regimes, deafness claims are still proving lucrative for claimant lawyers.
Posts made by Prolegal appear on the home page of everyone who likes and follows the page when they log onto the social networking site. It posts advice about bringing claims against employers and health and safety regulation updates and advice. On more than one post, it has explained that industrial deafness can develop "many years after the individual was exposed to harmful noise" and develop as part of the normal ageing process.
Insurers are concerned about the aggressive approach some claims management companies and solicitors have taken to pursuing these claims.
Zurich UK casualty technical claims manager Derek McCann says that advertising through Facebook is symptomatic of some lawyers 'claims farming' activities.
McCann said: "The way they are marketing seems to be a new concept but what's behind it is not new, it's still trawling for claims as far as I'm concerned.
"The quality of claims we're seeing nowadays are poor in comparison to what we used to see years ago and a huge percentage get repudiated because there is no liability or the medical reports don't support occupational deafness as opposed to age hearing loss."
A Prolegal Solicitors spokesman said: "It is nonsense to suggest that social media advertising is 'claims farming' or generates poor quality claims. We have no interest in wasting our money, or our clients time with hopeless cases. We do however have an interest in raising awareness of the legal services this firm offers and ensure that there is a level playing field.
"Since April 2013 the only legitimate way for a law firm to attract work is by advertising, unless of course the law firm happens to be an insurance owned law firm. Against this backdrop and in common with other law firms we use social media in addition to general search engine advertising to make the public aware of the services offered by the firm which includes more than just personal injury.
"The personal injury messages sent over the social media channels also refer to our health & safety services for employers where we highlight that prevention is better than the cure that the insurance policy is ultimately there to indemnify. The claims of any potential clients who contact us are carefully vetted and if instructions are accepted they become clients of Prolegal.
"Unlike some within the insurance industry we do not sell on the details of those who contact us to third parties who proceed to harass them with unsolicited calls, texts and emails."