Lloyd's insurer settle quickly on claim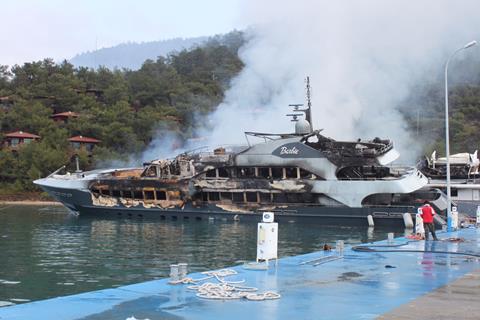 Lloyd's insurers have paid out on a claim for a fire on a superyacht
The superyacht, called Barbie, caught fire due to a blaze on a neighbouring 70ft yacht called The One.
The fire on January 4 this year in Marmaris harbour led to a $20m payout on Barbie. Nobody was injured in the blaze.
Talbot led the line on the policy, along with 13 other insurers.
"Barbie is the largest claim that the superyacht insurance market has had to deal with in quite some time.
"That it was paid in full within 60 days of the event will hopefully help the owner to reach closure from this traumatic incident," said Paul Miller, Hiscox MGA's director of underwriting.
"It is pleasing that we could resolve this claim so speedily, as we, and our insurance partners, pride ourselves on our technical expertise and customer service."
The 52-metre Barbie, built in 2006 with accommodation for 14 guests and 12 crew and a range of 4000 nautical miles, was insured through Yachtsure24, a specialist superyacht insurance cover from Hiscox MGA.
The Hiscox MGA represents both Lloyd's and "A"-rated European carriers.