But aggregators are still to sign up for the initiative despite ongoing talks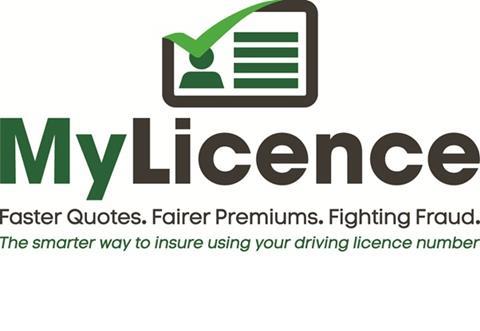 The MyLicence initiative has signed up more than 100 insurance companies since its launch last month, with more testing the data hub ahead of going live on the system early in the New Year.
MyLicence provides access to data such as driver's endorsements, disqualifications, points on their licence and the time a licence has been held directly from the DVLA for verification at point-of-quote.
This will help cut down on the 23% of motorists who fail to accurately disclose their driving records under the current system.
Companies already signed up for the initiative include Sabre and Collingwood, as well as software houses Open GI, RDT, Premium Choice and Transactor.
The Motor Insurers Bureau (MIB) has worked with the ABI and DVLA to launch the initiative following the government's Insurance Industry Access to Driver Data programme and the DVLA's ongoing aims to digitalise the data it holds.
MIB head of database services Neil Drane said those behind the initiative were aiming for 100% take up of MyLicence by the end of 2015, and said that a number of companies were working towards a launch by next summer.
"The fundamental target is we would like the whole of the industry to have adopted MyLicence by the end of next year," he told Insurance Times. "That is the goal and that is what we are striving for.
"We have a number of early adopters from different sectors of the industry, be it brokers, software houses or insurers. We now need a couple of the bigger boys to worry everybody else and make them think they are definitely going to be lagging behind [if they don't sign up for MyLicence].
"There are plenty of them now working with the view of being live in the first half of next year."
MIB confident of aggregator uptake
One potential stumbling block for the project has been the initial reluctance of the price comparison websites to sign up for MyLicence, a particular problem given the significance of the aggregators as a distribution channel.
However, while no price comparison website is yet to sign up to use the data hub, Drane said he was confident of reaching an agreement with the aggregators amid ongoing talks.
"They are still actively engaged [with the MIB] and working on things," he said. "However, in the meantime the software houses have stepped in to respond to their clients' requirements and are filling that gap.
"It is the software houses that are doing more of the enquiring of the data, but I am confident the aggregators are working on it and will join in fullness with time."
GoCompare told Insurance Times that it would support the MyLicence initiative, but has so far been the only aggregator to give its public backing to the project.