Allianz revenues dropped for 2018 amid the ongoing transfer of business between LV= and Allianz
Allianz UK estimates it will be writing £161m of LV= commercial lines business by the end of 2019.
So far around £40m of business has transferred from LV= to Allianz, with the majority due to be completed by the end of September 2019.
In addition approximately £115m of personal lines business is still to be transferred to LV=.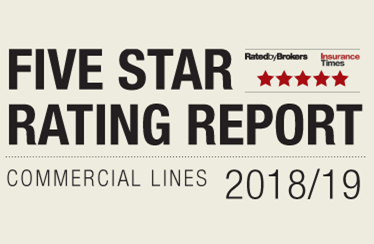 Allianz estimates it will still be writing £743m of personal lines business by the end of 2019, with annual end of 2018 results showing it writing £858m.
Overall, Allianz revenues dropped by £70m for 2018 - from £2.11bn to £2.04bn.
COR
Allianz UK improved its annual combined operating ratio by 1.8% for 2018, thanks largely to an improved personal lines performance.
Allianz in May 2018 started transferring its personal lines customers to LV= on a software house, by software house basis. The transfers are due to be completed by June 2019.
The result has been a drop in GWP from £1.01bn to £858.0m. But personal lines COR has subsequently seen a significant improvement from 100.1% for 2017 to 97.9% in 2018.
As commercial lines business is transferred into Allianz from LV=, commercial lines GWP increased from £1.09bn to £1.18bn. COR improved slightly from 95.1% to 94.7%. Commercial transfers are due to be completed by the end of September 2019.
Allianz UK 2018 results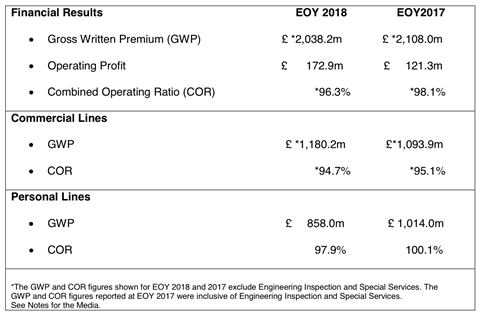 Dye said: "I am satisfied with the financial performance delivered in 2018 in what was a stretching and challenging year for the business. Profits are up 42.5% over 2017 and the combined operating ratio has improved by 1.8%. Competition and rising claims costs during 2018 were significant challenges which makes the delivery of these results all the more creditable.
"It is also pleasing to deliver against our profitable growth target and not be diverted from this focus during the portfolio transfer process with LV=. I would like to thank all my colleagues for the part they played in meeting our objectives – they should all feel proud of their achievements in 2018."
Group performance
Globally, there was good news for the insurer - the group is due to buy back €1.5bn (£1.32bn) in shares as the German company announced its highest ever operating profit.
The German company posted an €11.5bn operating profit, 3.7% higher than full year 2017.
Allianz SE also saw its combined ratio increase by 1.2% to 94.0 while total revenue grew modestly by 3.5% in 2018 over the previous year.
The operating profit beat the group's target range of €10.6bn-€11.6bn and was attributed to strong growth in the group's property-casualty segment, which was up 13.3% year on year.
An improved expense ratio, increased premium income and lower catastrophe claims were credited with the sharp rise, Allianz said.
The company undertook two share buy-backs in 2018, totalling €3bn, and it plans to raise a further sum this year.
Commenting on the performance, Oliver Bäte, group CEO said: "I am very proud of the global Allianz family for delivering such a great set of results. We reached the highest net income of the past ten years despite strong market volatility, especially in the fourth quarter."
Subscribers read more
Allianz cutting distribution costs through broker value analysis