Industry commentators say the insurer has gone 'above and beyond its peers' to tackle the climate crisis as it commits to stop underwriting companies that make part of its revenue from coal
Insurer Aviva plans to become a net zero carbon emissions organisation by 2040 – this includes stopping underwriting insurance for companies that make more than 5% of its revenue from coal or unconventional fossil fuels.
Today, Aviva announced its net zero carbon emissions plans. Its road map includes cutting 25% in the carbon intensity of its investments by 2025, with this increasing to 60% by 2030.
It aims to achieve net carbon emissions from its own operations and supply chain by 2030 and from its investments in 2040.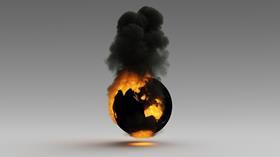 In the short-term, Aviva said that by the end of this year, it will have stopped underwriting insurance for companies making more than 5% of its revenue from coal or unconventional fossil fuels, unless the business in question has signed up to the Science Based Target initiative, which offers target-setting resources and guidance.
By the end of 2022, Aviva hopes to have divested from all businesses that make more than 5% of its revenue from coal, unless they are part of the Science Based Target programme.
Aviva, which is partaking in the Science Based Target initiative, will track progress on these targets through annual, public reporting. It will also put its Taskforce for Climate-related Financial Disclosure (TCFD) to an advisory vote at its Annual General Meeting of shareholders in May.
This work aligns with Aviva's goal to be the UK's leading insurer, contributing to a sustainable economic recovery. In line with this, the insurer will continue to invest in non-fossil fuel project finance bonds too.
Taking bold steps
Aviva group chief executive Amanda Blanc said the business is "taking bold steps" when it comes to combating the climate crisis.
She continued: "Aviva is taking bold steps to help tackle the climate crisis. As the UK's leading insurer, we have a huge responsibility to change the way we invest, insure and serve our customers.
"For the world to reach net zero, it's going to take leadership and radical ambition. And it's going to take Aviva to play our part."
Responding to Aviva's plan, Richard Curtis, co-founder at Make My Money Matter, said: "In going above and beyond its peers, this net zero pledge leads the race to the top we need to see from all financial institutions who recognise the dual role they play in fighting the climate crisis, while at the same time working for their customers' interests."
Business and energy secretary Kwasi Kwarteng added: "It's fantastic that Aviva is taking radical action across its business, which will help the UK eliminate its contribution to climate change and influence other businesses to move in the same direction.
"In order to reach our 2050 climate target, we must work with companies like Aviva to harness the strength of the UK's world-leading financial sector to unleash the private capital necessary to reduce carbon emissions and support new jobs as the UK builds back greener."
Ben Wilson, director of advocacy and executive sponsor for climate change at the ABI, said: "These bold and progressive announcements from Aviva underline the vital role the insurance and long-term savings industry has in tackling climate change as both an investor and innovator.
"In common with sectors across the economy, we need to move further and faster as an industry and this announcement will help inspire greater action in the months ahead."
Aviva's plan includes:
Tackling the main asset classes of its core markets.
Increasing green investments – this includes investing £10bn into low carbon strategies by 2022 and by 2025, investing £6bn in green assets and £1.5bn of policyholder monies into climate transition funds.
Achieve net zero in Aviva's operations by 2030, including using 100% renewable electricity for its offices and 100% electric/hybrid vehicle leases for its 1,540 motor fleet by 2025.