Caring for the planet is an 'essential element' of responsible capitalism, says MP
Biba 2021: As an industry that is at the forefront of dealing with the impact of climate change, there is "undoubtedly an even bigger role here for insurance, insurers and brokers". Now, the UK government wants firms to "plan ahead" to reach the Paris Agreement goals, said John Glen MP, insurance minister and economic secretary to the Treasury.
The Paris Agreement is a legally binding international treaty within the United Nations Framework Convention on Climate Change (UNFCCC) - it aims to tackle climate change mitigation, adaptation and finance. It was signed by 196 parties in 2016.
To overcome the challenges presented by the Paris Agreement, in which the key objective is to limit global temperature increases to 1.5 degrees celsius from pre-industrial levels, Glen said: "We recently launched the Glasgow Financial Alliance for Net Zero [GFANZ].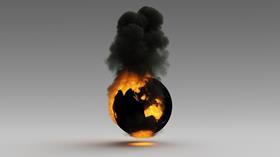 "It seeks to bring together firms from across the financial services industry, including the insurance sector, to accelerate the transition.
"I'm pleased to see that there are already 160 firms signed up, so if you haven't already done so, perhaps you could also join.
"I urge you all to continue exploring how you can strive to reach net zero within your own businesses."
Glen was speaking as part of Biba's virtual two-day conference last week.
GFANZ launch
The UK prime minister's finance advisor for COP26 and UN special envoy for climate action and finance Mark Carney launched GFANZ on 21 April 2021 in partnership with the UNFCC Climate Action Champions, the UN Race to Zero campaign and COP26 presidency.
COP26 refers to the 26th UN Climate Change Conference of the Parties, which will be hosted in Glasgow between 1 and 12 November 2021.
All firms involved in the GFANZ forum are required to set science-aligned interim and long-term goals to reach net zero no later than 2050, in line with the campaign's criteria.
The 160 firms are responsible for assets in excess of $70tl.
Fight against climate change
To unlock the trillions needed to achieve a resilient, zero emissions future, GFANZ plans to fulfil six set targets. The forum wishes to:
1. Broaden global campaign Race to Zero's existing finance sector mission to establish credible net zero commitments covering all financed activities in all sectors of the financial system.
2. Expand the number of financial institutions with high ambition, credible and transparent commitments to financing the transition to net zero.
3. Ensure that commitments are backed by interim targets (2030 or sooner), alongside robust transition plans consistent with 1.5°C above pre- industrial levels, as required by Race to Zero.
4. Coordinate commitments and actions across the financial system to support economy-wide transition, including the critical analytical tools and market infrastructure (such as credit rating agencies, auditors and stock exchanges) for financial institutions to implement net zero strategies.
5. Support technical collaboration on substantive and cross-cutting issues that will accelerate the alignment of investment and lending with net zero.
6. Advocate for public policy that supports economy-wide transition to net zero.
Glen continued: "While care for the consumer is an essential element of our vision of responsible capitalism, so is care for our planet and last year we announced a series of measures that seek to harness the power of financial services in the fight against climate change.
"This includes our intention to introduce mandatory climate-related financial disclosure across the economy by 2025, with a significant proportion of requirements to be in place by 2023, and developing clear definitions of sustainable investments, with the introduction of a green taxonomy.
"In addition, we're gearing up a UK infrastructure bank that will focus on green projects and we're issuing a green gilt to help fund these schemes."
He added: "I greatly look forward to continuing to work with you as we embark on this process of economic renewal and to our continued cooperation into the future."
Biba 2021: Day One
1

2

Currently reading

Climate change demands 'bigger role' for brokers and insurers - John Glen MP

3

4

5

6