Settlement offers are expected to be available between 21 June and 20 September 2021
AXA France has offered a €300m financial business interruption (BI) solution to 15,000 restaurant owners on the insurer's standard insurance policy, including extended coverage for losses linked to administrative closure.
The support package will provide a fixed lump sum indemnity settlement that will cover the equivalent of 15% of 2019's catering turnover activity for the time period when lockdown measures were imposed on 14 March 2020 and 29 October 2020.
This is subject to the duration and limited amounts provided for by customers' insurance contracts.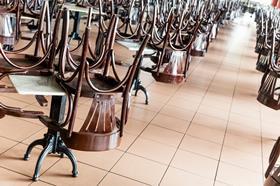 It is expected that the settlement offer will be open from 21 June until the 30 September 2021 - clients are urged to liaise with their usual AXA representative.
The settlement is available for restaurant owners who have not made a claim, those who went to court and lost, as well as those who have now become insolvent.
Patrick Cohen, AXA France's chief executive, said: "As restaurants are finally allowed to welcome their customers again, we are taking this initiative so that everyone can look to the future and focus on the restart of economic activity. Such a large initiative is unprecedented for AXA France.
"It will be implemented throughout the country by our 3,000 tied agents and all our distribution partners with the support of our teams."
Hard hit hospitality
AXA France remains convinced by the clarity of its policies, which do not cover collective administrative closures, as recognised by the Bordeaux Court of Appeal this week.
Cohen added: "AXA has played its role and acted in a responsible manner during the pandemic, supporting hundreds of thousands of customers and making a significant contribution to the financing of the economic recovery.
"We regret the misunderstandings with some of our restaurant clients, especially given this sector was particularly hard hit during the crisis."
Moody's analyst Benjamin Serra noted that the settlement offer will have little impact on AXA's group results.
He said: "The proposed settlement offered by AXA, if accepted, would reduce the uncertainty related to the ultimate costs of business interruption claims as well as the large news flow around conflicts opposing the group and its clients, which could affect AXA's reputation.
"This transaction will only have a limited impact on the group's results."
Michael Huttner and Thomas Bateman, analysts at Berenberg, added: "We applaud this settlement for three key reasons: 1) it covers all clients; 2) the claims can be paid very speedily starting on 21 June; and 3) the timing is good, as it is announced the day after French restaurants opened for indoor business also.
"We believe the settlement augurs well for AXA's future growth and profitability in France, its largest non-life insurance business.
"This settlement offer comes even though AXA continues to maintain that its policies did not provide cover for a pandemic-enforced lockdown. On this topic, the French courts have made contradictory rulings and AXA's new and renewal contracts have been rewritten to make the exclusion extra clear - the settlement is an elegant way of moving forward and avoiding lengthy and expensive court cases."