Group chief executive is 'confident about the future' of subsidiary Axa XL, which has been a key driver of financial success in the first half of the year
Profitability for insurer Axa's property and casualty (P&C) book has "bounced back" in the first half of 2021, with total revenues for this line of business growing by 4% across the group to reach €28.1bn (£23.9bn).
In the UK and Ireland specifically, personal lines revenue reached €951m (£811m) in the first six months of the year, while commercial lines revenue amounted to €828m (£707m). This created gross revenue of €1,780m (£1,519m) across Axa's UK and Ireland P&C book for 2021's H1.
Speaking to the media following the publication of Axa's half year financial results this morning (2 August 2021), Thomas Buberl, the insurer's group chief executive, said: "Axa achieved an excellent performance in the first half of this year.
"We generated a sharp growth of the revenues and of the underlying earnings throughout our regions and lines of businesses. Our P&C profitability bounced back, especially at Axa XL, after a year that was impacted by Covid-19."
Robust underwriting
Looking at Axa's group-wide P&C results, commercial line revenues grew by 6% to €18.7bn (£16bn) in the first half of 2021, driven by subsidiary Axa XL's performance (7%), favourable price impacts (11%) and "a continued reduction in some targeted exposures", said Frédéric de Courtois, Axa's deputy chief executive.
As for personal lines, revenues increased by 1% to €9.3bn (£7.9bn), mainly due to higher volumes for non-motor products. In the motor market, prices remained "stable", de Courtois added.
Axa's P&C underlying earnings improved by 323%, in part due to the fact that last year's Covid-19-related claims have not been repeated in 2021 – the insurer said that its Covid costs last year amounted to €1.5bn (£1.2bn), primarily through its P&C commercial business and Axa XL.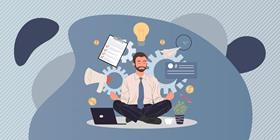 De Courtois continued: "We generated much higher underlying earnings to €2.2bn (£1.8bn). This was due to [a] much stronger and higher performance in underwriting, especially with Axa XL. Combined ratio stood at 93.3% in the first half, thanks to a very robust technical performance.
"Generally speaking in the P&C business, there was strong, technical profitability as driven by the performance generated by Axa XL, neutral impact of the lower frequency rate and the out of court [business interruption] settlements offered to the restaurant owners [and] more favourable reserve developments, partially offset by the larger impact of [natural catastrophes] and large losses."
Across all of Axa's business areas, which also includes health, life and savings and asset management, total revenues improved by 7% in the first half of 2021, while underlying earnings increased by 101% to €3.6bn (£3bn).
Buberl said: "Still impacted by health uncertainties, Axa was able in the first half to adjust to its environment and achieve an excellent performance that tops its pre-crisis level.
"Commercial activity at Axa was very brisk in the first half, with revenues up by 7% at €54bn (£46bn). The rise is 5% versus 2019. The first half also saw a sharp bounce of our underlying earnings."
Subsidiary success
Buberl et al have pinpointed subsidiary Axa XL as a key driver for much of Axa's financial success in the first half of 2021. This business deals with large risks.
Axa XL chief executive Scott Gunter has taken "decisive steps to turn around our subsidiary", said Buberl, leading to "a very sharp result in the underwriting with a combined ratio of 95.8%".
He continued: "I'd like to underscore the very good performance of Axa XL, with [its] results up by 40% at over €690m (£589m).
"The renewal of underwriting made good progress in every portfolio, as well as a favourable review of the reserves, with a surplus of €400m (£341m). Such actions were driven by the continuation of higher prices: +15% in insurance and +10% in reinsurance.
"It's a good first half for Axa XL. We are confident about the future of our subsidiary operationally, but also in terms of [its] investment earnings."
Underlying earnings within P&C for Axa XL reached €655m (£559m) in the first half of 2021, signifying a 35% change excluding the impact of Covid-19. Total P&C revenue for Axa XL stood at €10,418m (£8,895m) for the same reporting period.
"Axa XL is well positioned to deliver its €1.2bn (£1bn) earnings target in 2021 and sustainable and profitable growth beyond," Buberl added.
Investment bank Jefferies described Axa XL's results as "a particularly pleasing source of strength".
It continued: "In our view, Axa's results are a clear beat to consensus expectations, with Axa XL's underlying earnings up +40% (ex-Covid) being a particularly pleasing source of strength."
Fair value opportunity
Speaking on Axa's actions in the UK market specifically, Buberl noted that the insurer's "businesses have obviously also been impacted by Covid, as we've seen in all the other countries".
Despite this, Axa is "currently experiencing very good movement on the commercial line business, so [is seeing] strong price increases and also a good development of the business", while retail prices have "been stable to slightly decreasing" due to greater competition within the UK's retail marketplace.
Buberl believes the FCA's incoming rules to rectify price walking will prove beneficial for the business, however.
He said: "With the new FCA judgment around the better balance between new business pricing and portfolio pricing, we will clearly see an opportunity for us as well in this market to progress even further."