All the winners from last night's awards, along with what the biggest winners thought of their achievements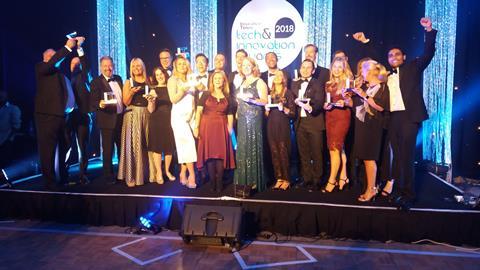 The winners celebrate
Legal & General's David Robertson was honoured with the biggest prize as Technology Champion of the Year at the Insurance Times Tech & Innovation Awards last night.
L&G's David Robertson
Robertson has been L&G's director of digital transformation since last year and said the recognition he received was thanks to the work of his entire team.
On picking up his award at the glitzy Hilton London Bankside over fellow nominees Ian Harrison of Direct Line Group, Lukas Oberhuber of Simply Business and Joe Sultana of Applied Systems UK, he said: "Winning this award was totally unexpected, despite the fact we've done some fantastic things that I'm really proud of this year.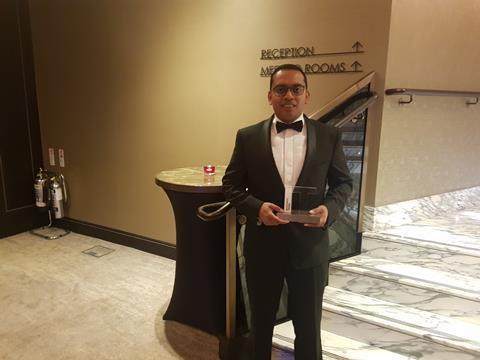 Suvo Datta, O2 Drive
"The reality is that competition is stiff and everyone is doing great innovative things in this market, so great credit to the people that I work with."
And he said he believed the key to the win had been the width and depth of what L&G had achieved in the last year.
He said: "We've done everything, from revolutionising the way we quote through to the revolutionised way we deal with claims and the way we deal with our suppliers.
"To get a quote in 90 seconds when typically it takes 25 minutes is very new to the market and so very exciting.
"You look at the winners and nominees and it's great to see the established players in the market doing well, but also so many new parties coming into the market with exciting solutions. It's great to see a whole range of different providers bringing these solutions to market."
Besides Robertson, the biggest winners on the night hosted by stand-up comedian Lucy Porter were Direct Line Group and Collision Management Systems (CMS) – each picking up two awards.
As well as winning the Internet of Things Breakthrough Award and the Technology Partner of the Year Award with Swiss Re, CMS was also highly commended in the Best Use of Technology for Customer Experience in Claims category (sponsored by Carpenters Group) – won by RightIndem.
Charles Smith, chief executive of CMS, said: "As a company, we've been battling away in the market for five years trying to talk about our vision and it's really great that the market is moving the way it is and recognising what we do.
"We've almost doubled in size in the last year and it's exciting times for us.
"It's great for Insurance Times to be able to recognise companies like us. It's fantastic for us. We were nominated for three, so I thought there was a good chance we might get one, but to win two and get a highly commended is fantastic for the team."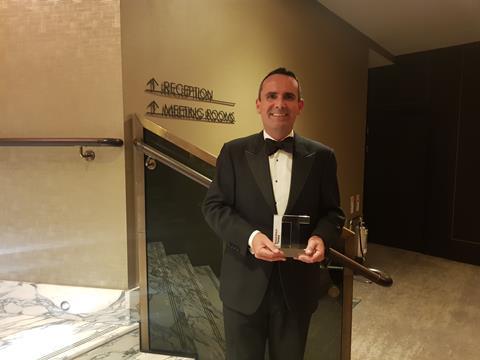 David Martin, Allianz
Direct Line Group's awards came in the Best in Digital – Direct to Consumer category, and the Technology Partner of the Year – General category, which they won alongside Emergent Network Intelligence.
Mike Brown, head of intelligence for Direct Line Group, praised the work of its partner in picking up the gong.
Brown said: "They have the skills and the tools and working with them we are able to produce products that ultimately protect our genuine customers and our premiums and reduce the risk of fraudulent claims.
"Fraud is ever present. We need to tackle it and to win this award just proves that in partnership and through effective collaboration we can do the right thing."
And Direct Line Group's head of counter-fraud John Ashmore added: "I'm thrilled with the recognition. We have a great team at Direct Line and to get this recognition from the industry is wonderful."
02 Drive was another company to enjoy a good night. From four nominations, it picked up the Data Analytics Excellence Award and was highly commended in the Best Use of Technology for Customer Experience. This was won by rradar.
Suvo Datta, director of 02 Drive, said: "It's the culmination of 24 months of hard work.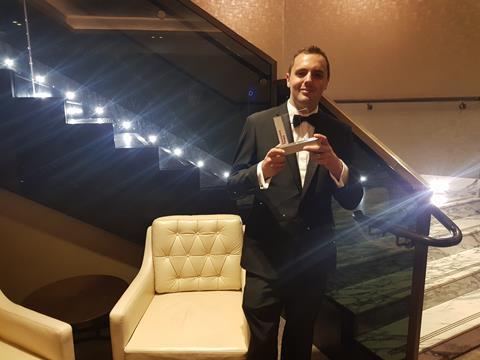 Aviva's Alex Allen
"To be recognised by your industry peers and have them say you're doing a good job is a statement of the fact you can enter the insurance business as a mobile operator.
"It motivates success and breeds success. Motivation comes in different ways and one way is to ensure you don't just believe in your own myth and you actually get recognised for the fact that you are in the business of data – and we do make a difference with data."
Canopy was nominated in the two Start-Up of the Year categories and took away recognition in both – getting highly commended in the B2C category (won by Neos), and winning the B2B category.
In the battle of the bigger insurers, Allianz took home the Best Insurer Extranet award, beating off competition from Aviva, AXA, Covea and NIG.
David Martin, Allianz's director of SME markets, said: "We're delighted to be able to serve our customers in the way we do.
"Our absolute dedication to making sure the customer outcome is protected at all times is the most important thing.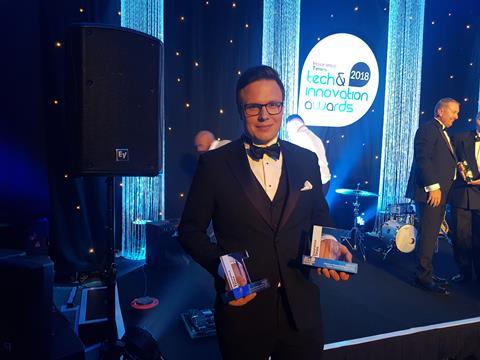 Charles Smith, CMS
"We're delighted to be recognised for that. We've worked hard to achieve it, but we're very proud of it and pleased with the support we've received from Insurance Times, particularly in the marketing and trying to get that message out, which has been vitally important to our brand."
Aviva, nominated in six of the 16 categories, won the award for Best Customer App.
Aviva Drive product designer Alex Allen said: "Awards are obviously not the reason we make apps, but it's so rewarding when the industry recognises you've done something great.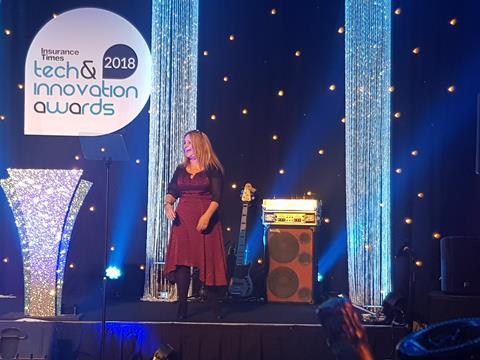 Host Lucy Porter
"I've worked on the app from the very beginning when there was initially little funding and interest, and now it's become one of the most important things that we do.
"We've tapped into a really key proposition that really resonated with customers. There were some other really great other entries, but I think we just showed something different."
But on a night for encouraging the adoption of new ideas and innovations, its Aviva Ventures fund lost out in Accelerator/Fund of the Year (sponsored by Tällt Ventures) to SBC InsurTech London, with Eos Venture Partners highly commended.
And Diccon Jefferies, special projects team lead at Tällt, said he was delighted with the support for innovation being displayed at all levels of the industry.
He added: "I was deeply impressed by the level of technology amongst every business from start-up to huge corporations.
"Everyone is embracing the 21st Century and the technology that is available to them to make life better for their customer."
Whilst PremFina won Best use of Technology for Customer Experience. It's chief technology officer, Nij Saha, said: "We are very proud to get this award and it's not me, it's the entire team at Premfina who have done incredibly well to deserve this.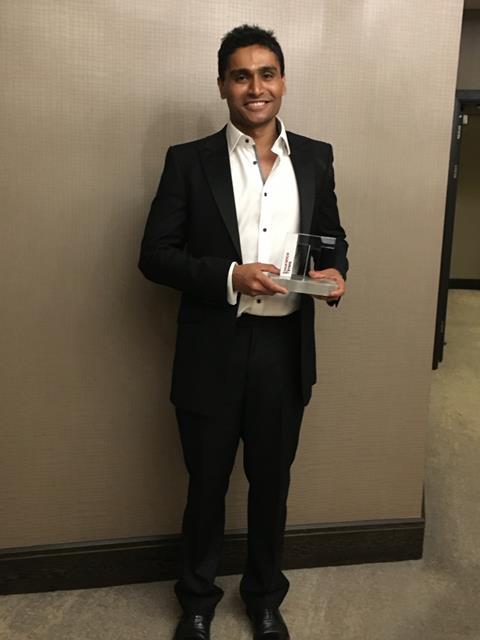 "This award demonstrates that visionary thinking, hard work into building a smart platform, and caring about our customer experiences at all times do pay off.
"And we will never stop exceeding our customer expectations. "
Other winners on the night included Cytora for Risk-Modelling Technology of the Year, and Medallia for Technology Innovation of the Year.
Cytora's chief executive Richard Hartley said it was an honour to win.
He said of leveraging data and artificial intelligence (AI) that, "Cytora is driving advances in risk modelling that are crucial to the future of insurance, enabling us to understand to understand risk in a more granula way than ever before, and more importantly, reduce risk for businesses all over the world.
"And it's exciting that Cytora is at the frontline of this."
Full list of winners:
- Best Customer App: Aviva
- Best Use of Technology for Customer Experience – B2B: PremFina
- Best Use of Technology for Customer Experience – Claims (sponsored by Carpenters Group): RightIndem (Highly Commended: Collision Management Systems)
- Best Use of Technology for Customer Experience – General: rradar (Highly Commended: 02 Drive)
- Accelerator/Fund of the Year (sponsored by Tällt Ventures): SBC InsurTech London (Highly Commended: Eos Venture Partners)
- Data Analytics Excellence Award: 02 Drive
- Insurance Start-Up of the Year – B2B: Canopy
- Insurance Start-Up of the Year – B2C: Neos (Highly Commended: Canopy)
- Internet of Things Breakthrough Award: Collision Management Systems
- Risk-Modelling Technology of the Year: Cytora
- Best in Digital – Direct to Consumer: Direct Line Group
- Technology Innovation of the Year: Medallia
- Technology Partner of the Year – General: Emergent Network Intelligence & Direct Line Group
- Best Insurer Extranet: Allianz
- Technology Partner of the Year – Motor: Collision Management Systems & Swiss Re
- Technology Champion of the Year: David Robertson, Legal & General