However, a pandemic insurance product targeted at micro or sole trader sized businesses could be 'unsustainable' for insurers says analytics firm
More than a third (38.4%) of UK-based small and medium-sized enterprises (SMEs) are interested in buying insurance that protects them from the potential losses associated with a pandemic, according to research from analytics firm GlobalData.
Its 2020 UK SME Insurance Survey found that the greatest level of interest for a pandemic-related insurance product came from medium-sized SMEs that had to fully cease their operations during the national lockdown – more than 75% of this demographic would now be interested in purchasing pandemic specific insurance.
Furthermore, GlobalData's research found that medium-sized SMEs would also be willing to pay higher premiums for this type of cover, up to £5,031 on average.
GlobalData, therefore, believes that there is a potential market for pandemic cover for SMEs, however the amount these businesses are willing to pay for premiums varies considerably.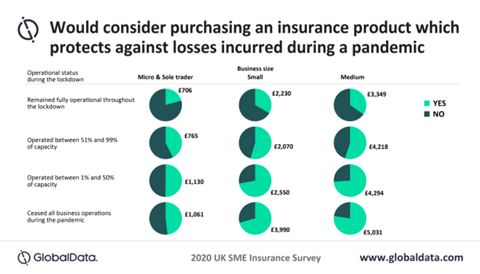 Daniel Pearce, senior insurance analyst at GlobalData, said: "Should the insurance industry look to develop such a policy for the SME market, the greatest level of uptake would be found in the small to medium-sized business area. This is because the percentage of micro and sole trader sized businesses which had to cease operations completely during lockdown that would be interested [in this type of product] does not exceed 50%.
"Combining this relatively low level of interest with the fact that they would be willing to pay the least in premiums, the market would likely be unsustainable for many insurers given the high level and cost of claims in times of pandemics."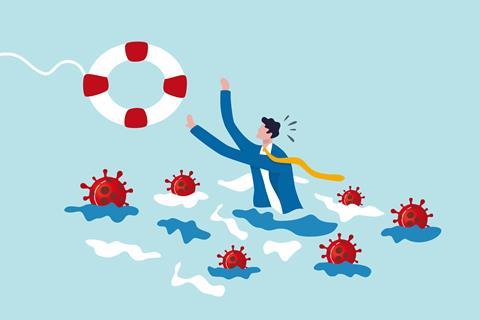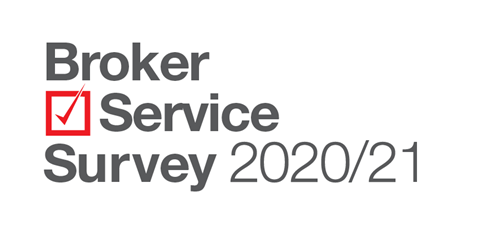 The insurance landscape is evolving. Click here to have your say and you could win £250 John Lewis vouchers. Brokers how well have your insurance partners supported you over the last 12 months?