There's no reason why activity should not pick up, despite a disappointing end to last year
In the third quarter of 2010, activity at the larger end of the deal spectrum increased markedly in the insurance sector, raising expectations for deal activity as a whole. Admittedly, RSA's £5bn offer for Aviva was rebutted, but that was only part of a wider pattern of big players making substantial bids, as evidenced by Apollo's offer for Brit Insurance.
The key question was whether the revival in deal-making activity would continue as 2010 drew to a close. The answers are revealed in the charts shown here which, as usual, are based on data compiled by Experian Corpfin and divided into transactions with values above and below £40m. They include only deals completed within the period and where the amount paid has been publicly disclosed and the buyer or seller operates in the UK insurance market.
For smaller transactions, Q3 2010 brought an abrupt end to a run of four consecutive quarters of growth, but this blip in deal volumes did not last long. In Q4, there were four deals with values disclosed below £40m – a big improvement on the previous quarter's solitary £30m acquisition by Capita of National Dental Plan. Of the four Q4 deals, two were by Tawa, including the purchase of Oslo Reinsurance and Island Capital.
However, while the number of deals gives cause for renewed optimism, the total value of deals under £40m was actually a little down on Q3 (£27m in Q4, as opposed to £30m in Q3). Looking at the year as a whole, total deal value was up 13% on 2009 and deal volume was unchanged. Clearly, we will have to wait for a surer sign of when smaller deal activity will begin a stronger ascent from the post-financial crisis trough.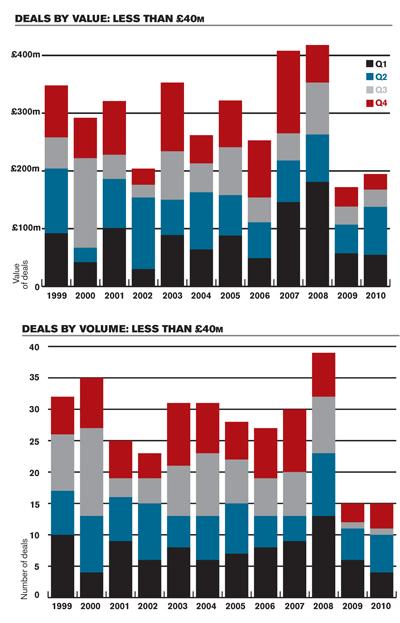 For deals above £40m, the fourth quarter brought no repeat of the bumper activity in Q3 (the best quarter for three years). Our view that in a weak market the larger-deal sector is binary in nature – either a few big transactions happen or they don't – was borne out once again. In Q3, the reverse takeover by Resolution of AXA's UK life and savings operation for £2.75bn led to a thirteenfold increase in value on Q2. However, Q4 lacked any big-ticket deals, and total value amounted to a mere 5% of the previous quarter (£169m, as opposed to £3.1bn).
Deal volume, at only two, was also down, dampening the belief that Q3's larger deal activity had revealed a renewed confidence in corporate strategy. Nevertheless, surveying the year as a whole still gives cause for optimism: volume in 2010 was 260% up on 2009, while value was nearly 800% up. Although Q4 was a disappointment, 2010 as a whole provides some cause for celebration.
Across all sectors the picture is similar: statistics from private equity journal Unquote show a marked decrease in activity across the market. The aggregate value of larger UK management buy-outs (£150m or above) in the fourth quarter was, at just £1bn, almost the lowest final three months on record. Only the fourth quarters of 2001 and 2008 were worse.
So, although the year as a whole was encouraging for deal-makers – and an enormous improvement on 2009 – it appears to have been considerably harder to get larger buy-outs closed in the last three months than in the preceding nine.
The story for smaller UK buy-outs (below £150m) is similar, with just 12 deals for a total of £340m – a record-breakingly weak fourth quarter on both counts. Again, though, the picture for the whole of 2010 is much more encouraging, with aggregate deal values more than double the 2009 figure and volumes also well ahead.
So the wave of large-scale insurance deals that were anticipated at the end of the third quarter did not materialise in Q4 as hoped. However, we believe that many deals may have simply been postponed until 2011.
In late January, for example, RSA is to acquire GCAN Insurance Co, a Canadian provider of property and casualty insurance services, from Teachers Private Capital, the private equity investment arm of Ontario Teachers Pension Plan.
Of course, we can't rule out the possibility that the disappointing end to 2010 could become longer-term wobble in the current recovery. But on the balance of current evidence, we see little reason to doubt the continuing confidence of both larger and smaller players to launch more deals early this year.