Robbers thought insurance executive was a drug dealer and shot him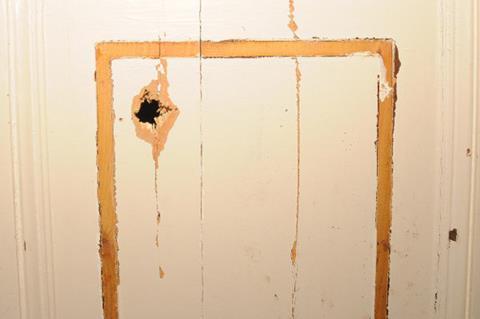 Armed robbers shot an insurance executive because they thought he was a drug dealer, a court has been told.
ACE Tempest Re divisional president Timothy Mardon was shot in the leg by raiders at his Essex home demanding he hand over "weed money" a jury at Chelmsford Crown Court was told.
The jury were played a recording of Mardon's 999 call, in which Mardon begged for help after being shot, and was asked for "weed money" by one of the intruders.
"I had no idea what he was asking about, Mardon told the court.
"I think I said: 'I don't deal weed, I work for an insurance company."
The Essex Police picture above shows shotgun damage at Mardon's home.
Three men deny charges including aggravated burglary and possession of a firearm. One of the defendants also denies attempted murder.
The trial continues.