Can Aviva hold onto it's crown from last year? Find out which insurer was the most profitable in its half-year performance figures
Admiral has resumed its place as the flagship of the UK insurance fleet.
Analysis of the first half-year performances of Britain's leading insurers shows that Admiral produced the best underwriting results, closely followed by Aviva, with Allianz in third place.
Admiral's return to the top comes after last year, when Aviva had knocked it off top spot.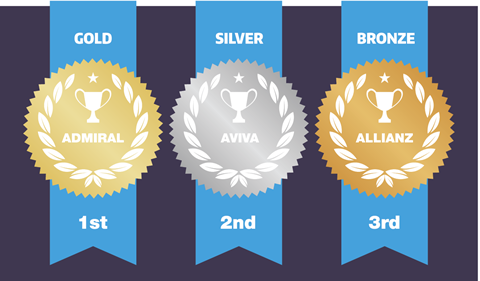 Recently revealed as a takeover target for private equity group Bain Capital, Esure, which was third last year, has slipped down to ninth, hit by a double whammy of a poor underwriting result this year, and a positive result in 2014 falling out of the five-year comparision.
The rankings are assembled through combining ratings of the combined operating ratios (COR) of the companies in the first half of this year, their
movements from a year ago, their five year average COR and their five-year volatility.
Each company is awarded points related to its ranking in each criterion, with each criterion given equal weighting.
Admiral and Aviva both achieved the same number of points overall, but Admiral was awarded the crown on the basis that it had two first place rankings to Aviva's one.
Admiral topped the rankings in its first-half COR, which was 87.4%, and its five-year average COR, and came third in its improvement from a year ago.
But it came bottom of the rankings in terms of the high volatility of its COR over the past five years, based on a measure of its standard deviation from its mean.
Ageas, which came seventh overall, showed the best one-year improvement in its COR this year, with a 6.6 percentage point improvement to 99.0%.

Admiral
Admiral reported strong first half results, boosted by its motor business, with pretax profit rising to £212m from £195m a year earlier.
During the period, the group said it passed the 4 million mark for UK cars on cover, with UK customers reaching 5.07 million by the end of June, up from 4.34 million. International customers also grew to 1.12 million from 0.96 million.
The direct insurer said its share of aggregator Confused.com's profit rose to £3.5m from £3.1m. Group turnover in the period was £1.66bn, up from £1.45bn.
Net insurance premium revenue was £324m in the period, up from £301m, while the underwriting profit grew to £93.4m from £88.9m.
UK insurance registered a profit of £247m, up from £225.8m, while the group COR improved to 87.4% from 90.0%.
Admiral said that, though a favourable claims environment and positive results in 2017 contributed to declining prices in the motor market in the first half of 2018, it was able to grow its business strongly in the first half of 2018 with no change to base rates.
It said the first half saw a slightly higher overall claims frequency, a slowing of the rate of improvement in injury claims frequency, and continuing inflation in property damage claims costs.
Large bodily injury claims costs were also less positive in the first half, exacerbated by last year's cut in the Ogden discount rate.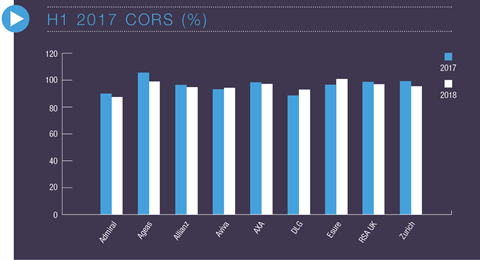 Aviva
Aviva showed the lowest volatility, and came third in current year COR and the five-year average.
Aviva saw its UK general insurance operating profit fall by 9% in its first-half 2018 results.
Profit was at £195m for the first half of 2018, but this represented a COR of 94.3%, compared with 93.2% for the same period last year.
Chief executive Mark Wilson put the fall down to the cold weather spat early in the year nicknamed the "Beast from the East", but said he was "happy to pay claims."
Phil Bayles, managing director of UK intermediaries at Aviva, said the relatively small drop in COR was as a result of a deliberate diversification of the business and the strong commercial lines showing.
He said: "The underlying business is better on that basis if you normalise it for weather. If you've been reading the commentary, every single insurer has commented on the weather, but we've had only a relatively minor hit on our COR.
"Because we're strong in multiple channels we have the ability to flex our volumes more readily than a lot of other insurers.
"We've had a few years where the personal lines market has been exceptionally good and it has lead
the growth of the business.
"This year there's clearly some challenges around market conditions in motor and we've been about to flex up our commercial lines business very strongly, particularly in the non-motor classes.
"We have a resilient model because we are multi-channel, multi-product, and that's what has come through in our results."
Aviva expects its motor profits to recover next year in response to an anticipated change in the Ogden rate.
Rob Townend, managing director of UK general insurance, said despite the delay in the Civil Liability Bill, changes to the Ogden rate are likely to be implemented after the bill is written into law next April.
And he said pricing volatility should start to ease in the next year.

Allianz
Allianz's podium finish comes at a critical time for the Germany-based insurer. Just as it reported its first half results, it was starting to issue invitations to brokers to move their commercial lines business from LV= to Allianz.
This is part of the wider deal whereby Allianz and LV= have pooled their personal lines business into a new company, LV= GI, in which Allianz owns a 49% stake, rising to 69% at a later date.
Allianz's UK business saw profits up 17.5% for the first half, to £87.8m, with the COR also improving from 96.5% in 2017 to 94.8%. The COR on commercial lines was down from 92.8% to 94.3%, which chief executive Jon Dye blamed on the poor winter weather.
Esure
Esure, now on the point of being acquired by US private equity group Bain Capital, registered the poorest first-half COR of the nine insurers, at 100.9%, and showed the second worst movement in COR from 96.6% a year ago. Its five-year average lost the benefit of a 90.0% COR in 2014, which fell out of the calculations, and it displayed the third worst volatility of the nine companies.
Esure's underwriting performance was hit hard by the "Beast from the East", which cost Esure Group £8m in home claims costs in the first quarter – four times what the insurer had budgeted for the period.
Gross written premium rose 18% from a year earlier to £221m, with motor up 21% to £201m, though home GWP was down 6% to £20m.
In-force policies rose 9% to 2.4 million, with motor up 17% to 2.0 million, though home policy numbers fell 13% to 470,000.
The future
Aviva rose to the top last year because of its prudence in kitchen-sinking the effect of the Ogden rate cut into its 2016 results.
With the companies mostly continuing to reserve on the basis of a minus 0.75% Ogden rate, it will be interesting to see what will happen to the insurers' CORs and the company rankings in a year's time, when the Ogden rate comes up for recalculation on a new basis, and those inflated reserves begin to be released.