As an improving economy encourages SMEs and homeowners to buy more insurance, they can demand better terms, such as the waiving of condition of average clauses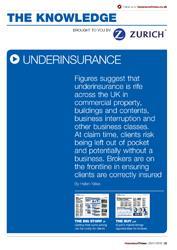 With high levels of competition in the UK general insurance market - both in personal and commercial lines - a plethora of cheap reinsurance and a winter so far devoid of major claims, rates are likely to come under further pressure in 2015.
There are particular gains to be had by SMEs and home owners, according to the latest results from the Biba/Acturis Insurance Price Index.
This buyers' market and UK firms' growing confidence as the economy improves will encourage business owners to buy more insurance in 2015.
Rating agency Fitch says both the halt in the fall in motor premiums and improved commercial lines performance bode well for the UK non-life insurance sector in 2015.
It is an environment in which brokers can seize the opportunity to encourage clients to take out broader cover to guard against the dangers of underinsurance. This is in everybody's best interest, as Hill Dickinson head of insurance Ruth Lawrence says: "If everything was insured for the proper amount there would be more premium income out there to be earned."
Click here for a larger version
Negotiating better conditions
The soft market is also helping insureds and brokers argue for better terms and conditions, including dropping 'condition of average' clauses and other wording that could lead to underinsurance.
Property insurers appear to be particularly willing to waive condition of average if a professional valuation has
been undertaken within one to three years.
"There are policies now that don't have an average clause in them and the astute brokers should be recommending them," Lawrence says.
"Those policies may end up being slightly more expensive in some cases, but the more astute brokers are saying they don't want the average clause in or are finding a policy without it. That protects them as much as it protects the client."
Adding value
Other insurers offer clients free valuation services in return for average waiver guarantees. Cunningham Lindsey offers such a scheme, partnered with Allianz, NFU Mutual, Aviva and Biba.
Higos head of commercial lines Chris Wilde says: "Some property insurers in the commercial arena have links with valuation companies, so therefore both of you – broker and insurer – can use that as an added value service that you are providing to the client.
"You can use the bulk purchase approach of getting a costing for the valuation at a reduced level, but the benefit for all parties is immense," he says.
"Because A, it means the client is correctly insured, B, it means that in the event of a claim there are no future issues, and C, there is no reputational damage to the broker or to the insurer."
But just because a clause of average does not exist in a contract does not necessarily mean an insured will be entitled to a full payout should a claim occur.
'Proportionate'
The UK Insurance Act, which is currently going through the UK Parliament, has implications here in terms of the "proportionate remedies" it will introduce, says Lawrence.
"When the new bill goes through, the insured will owe a new duty of fair presentation to insurers. There will be proportionate remedies for breach of that duty.
"Average clauses already give insurers a proportionate remedy for underinsurance. How average clauses will work under the new regime may not be straightforward. It's one of the things we've
Join the debate in our new LinkedIn specialist discussion forums