As the general election looms, Biba lobbies at all three party conferences to lower the cost of regulation for brokers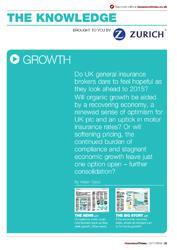 The cost of compliance will be one of the biggest barriers to insurance broker growth in 2015, according to Biba chief executive Steve White. He
says UK brokers "have the most expensive burden in terms of fees and levies in comparison to any other major world market and are the second dearest
after Singapore".
With the general election due in May, Biba was active on the political party conference circuit in September and October, highlighting the contribution that general insurance brokers make to the economy.
A report by consultants London Economics in 2011 found that brokers' direct and indirect contribution to GDP is about 1%.
"This is not insignificant," says White. "Not when you consider that it is the same contribution as the agricultural sector and the agricultural sector has its own ministry.
"I'm not suggesting for one second that we need a ministry, but, seriously, 1% of GDP should offer brokers entry to some more tailored oversight."
Click here to see a larger version of this image
The cost of regulation was the most mentioned issue at the political party conferences, says White. While the Conservative Party is considered the most "pro-enterprise and pro-business", there is a strong possibility of another coalition parliament next year.
Meanwhile, the Biba conference is due in Manchester a week after the election, with the theme 'Delivering our Promise' and its stated aim of reducing the burden placed on the industry by compliance.
Highest in the West
Research last year found that brokers spend more than 2% of broker income on meeting regulatory requirements. This is five times higher than the cost of compliance in rival financial centres in New York and Japan, and 14 times the global average.
"In the UK the costs are borne by the regulatory community and passed on to the customer, whereas in other parts of the world the cost is borne by the public purse,"
says White.
"In other words, it is paid for by tax, which is why it's so difficult to compare the UK to other markets.
"That is scant consolation for UK insurance brokers who pay the highest price for regulation in the Western world."