The telematics broker's bosses, along with celebrity backer Gary Lineker and Ageas chief Barry Smith, reveal how their telematics dream is becoming a reality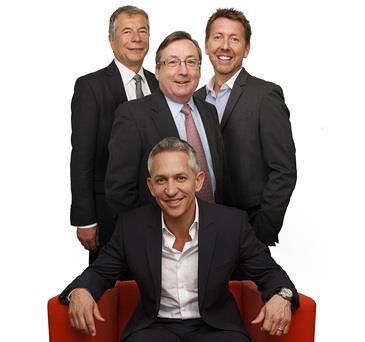 With Gary Lineker as the ambassador for telematics broker Ingenie, the subject of football was never going to be far away from a discussion on the company.
But it is almost unavoidable considering that Ingenie chief executive Richard King and chairman Steve Broughton are both ardent Chelsea supporters, while Ingenie underwriter Ageas's chief executive Barry Smith is a big Spurs fan. "We have an unusual position where we have two Chelsea supporters and one Tottenham supporter, but we all want this proposition to win," Smith quips.
Today, King, Broughton, Smith and Lineker are here to talk about the Ingenie approach to telematics. Ingenie has big plans to capitalise on the growing market - and Lineker is their not-so-secret weapon. He got involved with the business after moving in next door to Richard King, who co-founded claims software provider Innovation Group, which floated in 2000 and had a peak valuation of £1bn.
Lineker was particularly taken with the advantages telematics offers to younger drivers. "As father of four boys, I completely got the concept and wanted to be involved with it when it launched," he says. "Making improved driver behaviour a priority was a unique proposition and I wanted to lend it my support."
Having Lineker on board is a unique differentiator for Ingenie - but let's first revisit a key milestone for the business. Fittingly, it was at a football match. After developing plans for a telematics company targeting young drivers, King wanted to sound out insurers' interest. He approached Broughton, former managing director of RSA Insurance and current chairman of Tesco Underwriting, and asked him to a Chelsea game to talk further.
"I only went there to talk around the industry, but I so liked what he was doing that I decided to join up," Broughton says.
Others were not so positive, remembering past failures in the industry. "When I first started speaking to insurers three or four years ago and talked to them about potential benefits," King says, "the reaction was almost a wry smile and 'good luck with that, because it didn't work before, did it?'"
Since then, the number of telematics brokers and insurers has risen as black boxes have become more advanced, the cost of manufacturing is dropping and customers appear willing to sign up for a technology that many had written off as too invasive.
King and Broughton think it is important to see telematics as a way to actively improve the way young people drive, with cheaper premiums coming second. "While, of course, volume is very important to us, nearly all of our focus at the moment is on changing behaviour," King says.
For us, that driving reduces premiums and is a sustainable loop"

Steve Broughton
Broughton adds that telematics companies that ignore this run the risk of failure. "For us, that driving reduces premiums and is a sustainable loop," he says. "If your focus is just to join the telematics revolution, and make sure you don't get left out, then I'm not sure you are going to be sustainable."
Smith says he chose Ingenie because its boxes offer quality data to help Ageas's underwriting and it wants to make young people safer drivers. "The ultimate goal is to understand how we can improve driving standards in the right way and reduce the tragedy on the roads," Smith says.
Smith was also attracted to the way Ingenie makes extensive use of social media. And one of the lynchpins of Ingenie's social media plans is Lineker. As an ambassador for the brand, Lineker raises the profile of the broker through social media and promotional material. He has also invested in the company.
Lineker says that after hearing more about the proposition, he decided to invest. "He [King] has a proven track record in building successful teams, so in the case of Ingenie I wanted to do more than put my name to it and to have a stake in its future growth," Lineker says.
But with so many telematics companies all looking to sign up young drivers, is there a risk that there won't be enough to go around? King thinks not. "The market is huge - five million young drivers and a million new licences every year," he says.
Telematics recently made the headlines when it was brought up by prime minister David Cameron in the insurance summit at 10 Downing Street. But Broughton doubts government has a long-term interest in the technology. "Governments will jump on any bandwagon that implies they are helping to bring down costs for people, but these things tend to be a fleeting interest," he says.
The current debate dominating the telematics arena is over which party owns the boxes' data and whether there should be common data standards between the many different telematics propositions on the market. Broughton says that common data standards would help the sector, but adds that his time as chairman of Polaris taught him that efforts to create common data standards end up favouring the lowest common denominator.
Telematics has enjoyed a recent flurry of attention, but what will the future of the technology be? King believes that it will become widespread among young drivers, and will then spread to older age groups, but probably not within the next two years. He adds that telematics uptake will have another boost when car makers begin building telematics boxes built in to new models.
As the public face of the brand, perhaps we should let Lineker have the final word. The football veteran says that working in insurance has been "an education", but would he ever swap the Match of the Day sofa for a full-time career in insurance? He says: "If it all goes wrong on the telly, I know I've got insurance to fall back on, which is far more exciting, obviously!"
Snapshot: Richard King
Age: 43
Hometown: Cobham
First job: Systems engineer, Wang UK
Interests: Chelsea season ticket holder, golf
In his own words: 'Nearly all of our focus at the moment is on changing behaviour'
Snapshot: Steve Broughton
Age: 64
Hometown: Kenley
First job: Professional trainee, Sun Alliance
Interests: Horse-racing, as an owner
In his own words: 'For me, governments get interested for political reasons and publicity'
Snapshot: Ingenie
UK offices: 2
Employees: 30
Market view: Ingenie faces tough competition in the rapidly growing telematics market, but it has plenty of experienced people onboard to help establish the company.